Radiology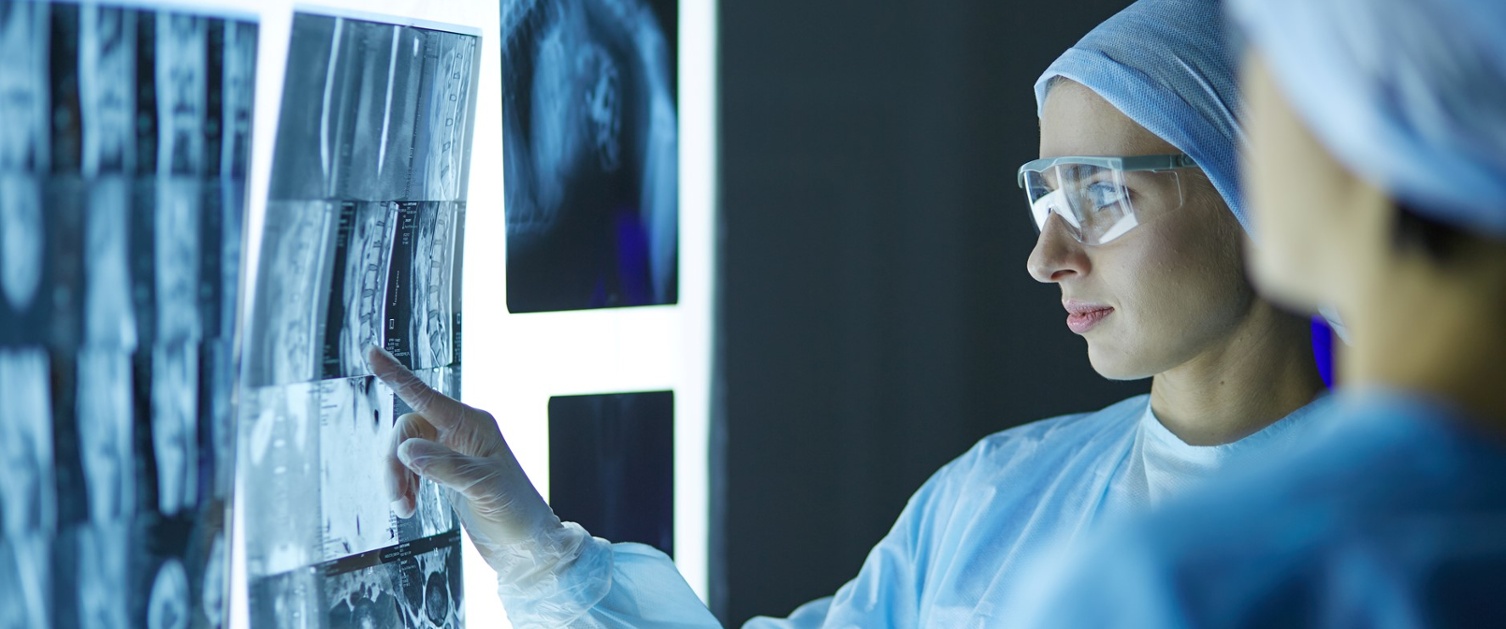 Radiology lies at the heart of hospital activity and provides accurate and timely support to virtually every other clinical specialty.
Doctors apply both diagnostic and therapeutic skills in a framework of rapidly evolving interventional procedures and medical technology. They need excellent communication skills to support patients who are referred from many sources and specialties and to work with clinicians across disciplines. Wales offers an outstanding run-through education programme, supported by enthusiastic and forward-thinking consultants.
General information
The first examination for the Fellowship in Clinical Radiology comprises two modules: Physics and Anatomy. The purpose of the curriculum is to provide those undertaking specialty training in clinical radiology with appropriate knowledge of the physical principles that underpin diagnostic medical imaging and of the anatomy needed to perform and interpret radiological studies. When linked with other training in clinical radiology, this will lead to the sate and effective application of diagnostic imaging for the benefit of patients.
It is intended that the curriculum should be delivered during the first year of specialty training. This is expected to take about 40-45 hours of formal physics teaching and 30 hours of focused anatomy teaching over a period of about six months. This should be supplemented by practical training and private study of material recommended by trainers.
Assessment is in the form of the First FRCR Examination, which is held three times a year. The format of the assessment is different for each of the two modules and details of each are given in the relevant syllabus component later in this document. The two modules will be scheduled so that both may be attempted at the same sitting, although not necessarily at the same venue.
The curriculum has been developed by the Physics Working Group and Anatomy Working Group and agreed by the Fellowship Examining Board and the Education Board of the Faculty of Clinical Radiology of the Royal College of Radiologists. It has been approved by the Postgraduate Medical Educational and Training Board (PMETB) as an integral and mandatory component of specialty training in clinical radiology. It is kept under review and revised as appropriate.
The curriculum is presented in two separate syllabus components, one for each of Physicist and Anatomy. These are laid out later in this document, together with the aims and learning objectives for each and details of the assessment for each of the modules. Clinical Radiology is part of National Recruitment.
Examination structure
The first FRCR Examination is held three times a year: usually in March, June and September. Each of the two modules is held at each sitting. There is no limit on the number of times that a candidate may attempt either the examination overall or either of the modules. A candidate may attempt modules at the same sitting or at separate sittings and may pass them either together or separately in any order. Once a pass has been obtained in a module there is no requirement to resit it. A candidate will be deemed to have achieved overall success at the First FRCR Examination once both modules have been passed
No minimum period of clinical experience or clinical radiology training needs to have been completed in order to enter the examination. No confirmation of course attendance is required. Candidates undergoing specialty training in the UK require the signature of their Training Programme Director on their application form each time they attempt the examination in order to confirm that the number and combination of modules to be taken is appropriate.
Contacts
Head of School of Radiology - Dr Owen Rees, Consultant Radiologist, Ysbyty Glan Clwyd
Dr Audrey Yong, Training Programme Director ST1 - ST3
Dr Daniel Chung, Training Programme Director ST4 - ST5
Dr Phillip Wardle, Director, National Imaging Academy of Wales
Mrs Elenor Williams, Specialty Training Manager