Optometry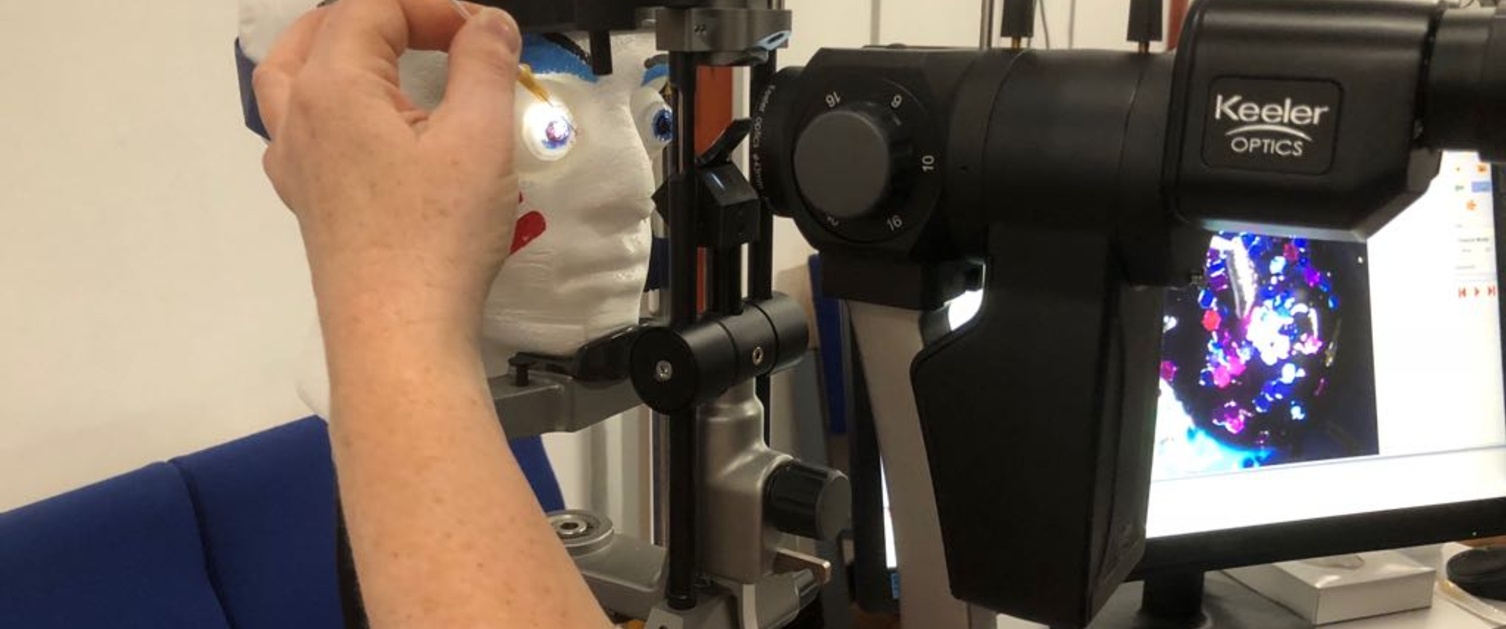 Vision for Optometry development in HEIW
Health Education and Improvement Wales (HEIW) vision is to support optometrists and other eye care professionals through a programme of high quality education and skills improvement aligned to continued professional development, reflective practice, and mentoring.
Robust and developing workforce planning from HEIW ensures there are sufficient eye health care professionals to meet the growing demands of all patients, wherever they reside in Wales. HEIW leads the way in Quality improvement and leadership development for optometry professionals.
Providing Low Vision or Eye Health Examinations Wales (EHEW) services in Wales
In April 2021 the training and education to provide eye care services in Wales (including the Eye Health Examinations Wales; EHEW and Low Vision services) function was moved from Cardiff University and WOPEC into HEIW. This means that if you are an optometrist or Dispensing Opticians and you want to offer Low Vision or EHEW services for the first time you need to contact HEIW by emailing us at heiw.optometry@wales.nhs.uk. We will then give you information about the service, as well as all you need to know about becoming accredited.
New Contract
Aspects of the education and training will alter because of any new GOS contract in Wales. Practitioners who have successfully completed their EHEW or Low vision training and are already registered will remain valid and previous learning and education will need not to be repeated.
Therefore, we encourage any practitioners who have not yet completed EHEW training and accreditation to contact us before the contract reform begins.
Contact emails
EHEW training and accreditation as well as Low Vision training and accreditation: heiw.optometry@wales.nhs.uk
EHEW clinical or EHEW management queries Joanne.James9@wales.nhs.uk Joanne James, Improvement Manager for the EHEW Service
Low Vision Service Wales clinical, management or service delivery queries: Low.vision@wales.nhs.uk
Eye Care reform in Wales – The patient Management Plan
Included below is Tim Morgan's presentation about how a new contract for Optometry will be used to improve eye care for patients and include them in our clinical decision making.
This presentation was delivered by Tim Morgan our HEIW Welsh Clinical Leadership Training Fellow on the 22 September 2021 for a roadshow with Optometry Wales about proposed changes to the eye care contract in Wales.
Outline
The future for eye care services in Wales requires a multifaceted approach with the involvement of all healthcare roles to solve current problems. There are key roles for optometrists in reducing the number of referrals into the hospital eye service, the management of more patients in primary care, including patients currently under the hospital eye service. Orthoptists and nursing are also crucial to support ophthalmology services in secondary care. Underpinning these new roles and changes in service are learning and training.
To achieve these aims HC professionals need to be upskilled with further postgraduate education and continued professional development. Aligned to this is a requirement for optometrists to be supported when they take on extra clinical roles and, crucially, enable them to become more adept at managing and accepting clinical risk. Optometry in Wales does not have a significant presence in hospital eye care and this also needs to be supported and developed, allied to developing our future clinical leaders. All this needs to be within the context of the framework of education at all levels so that optometrists of the future arrive as professionals ready to clinically manage patients within primary care on day one with their continued journey supported and developed.
There are 4 elements that need to be addressed:
higher qualifications and Continued Professional Development (CPD)
placements and education and training structure
mentorship and support
leadership
Continuous Professional Development (CPD)
To deliver new services, certain skills and learning elements are compulsory, with selective CPD allied to the 3-year regulator standards. CPD will be for the whole profession but will also be tailored to the services and work that an optometrist, dispensing optician and contact lens optician undertakes. Reflective portfolios will facilitate teaching, attitudes and professionalism. The focus will be on scope of practice, reflection and mentoring aligned with other health care professions, such as dentistry and medicine.
Postgraduate higher qualifications commissioning will continue, as they have been successful to underpin services in Wales. For example, optometrist independent prescribers managed over 90% of patients with acute eye conditions without the need for eye casualty or other hospital eye department intervention during the red and amber phases of Covid-19 recovery plan in Wales.
A Toolkit/ matrix to prioritise and understand needs and requirements for CPD will be required to support new optometry contract reforms.
Placements
The attainment of higher qualifications requires optometrists to undertake placements within the hospital eye departments, gaining experience of managing complex cases, and building relationship with the whole clinical team. This aspect is essential for the successful delivery of future eye care services and improves collaborative working between optometry and ophthalmology.
Mentorship and support
Mentoring facilitates CPD through a network of experienced optometrists that guide newly qualified optometrists. Mentoring considers their scope of practice for CPD requirements as well as providing support and guidance. Mentoring support includes an assigned designated Mentor, an online platform to create a portfolio and a peer support network. Optometrists need support when they take on additional clinical roles and, crucially, enable them to become more adept at managing and accepting clinical risk.
Recent research demonstrated, newly qualified optometrists may over refer. At a time when clinical confidence and experience are still developing, an increased workload on qualification may lead to pressure to make quick and more risk‐averse decisions, and consequently refer more readily. A Mentor, recourse to a peer support network and opportunities to take part in peer review will build confidence and enable newly qualified optometrists to accept an appropriate level of clinical risk.
Leadership
Optometry is taking on an increasing role in the healthcare of our patients in Wales. There has never been a better time to develop clinical leaders in optometry, with integration of optometry into NHS leadership programmes.
As an example, the Welsh Clinical Leadership Training Fellowship (WCLTF) initiated in 2013 has enabled Fellows to take up leadership roles in NHS Wales and Welsh Government. NHS organisations in Wales have been highly engaged and committed to the WCLTF process, offering quality improvement projects within their organisations. The aim is for the optometry profession to lead transformation of the clinical workforce and develop healthcare leaders of the future to support eye care services across NHS Wales.