Dental courses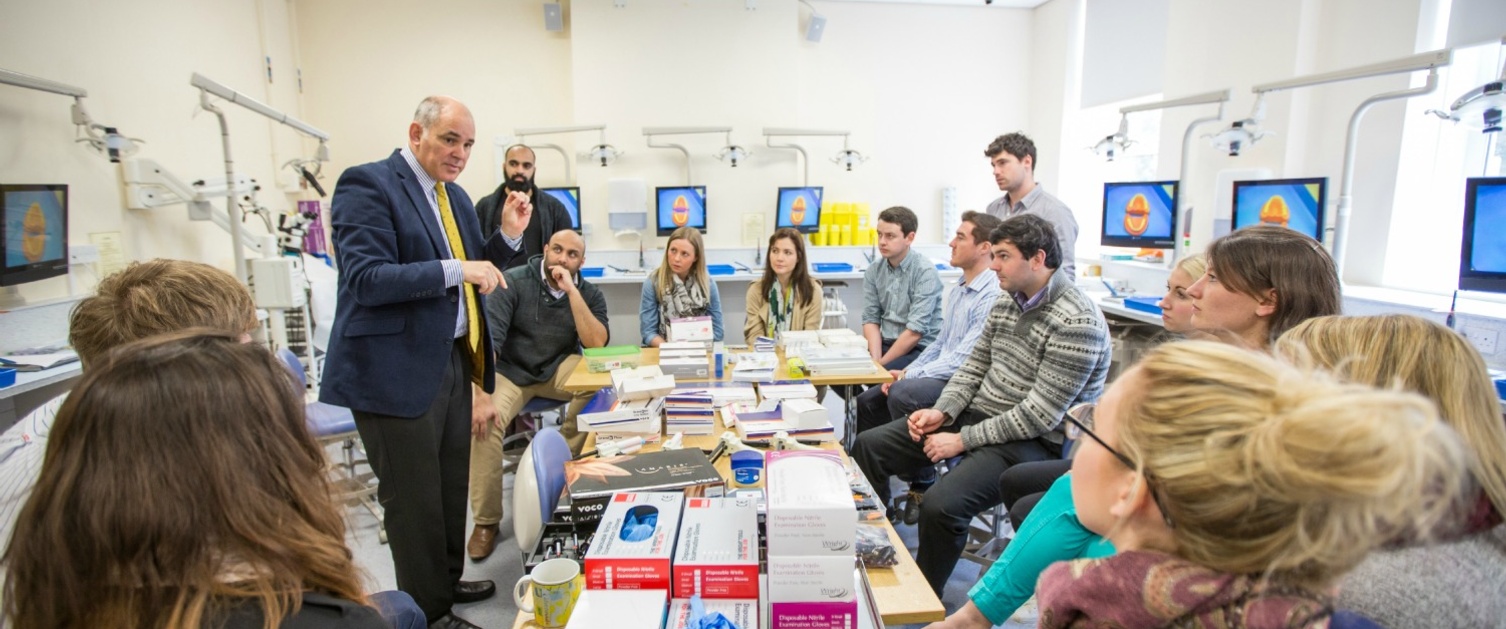 The dental postgraduate section provides a variety of courses covering all areas of dentistry, for registrants who live or work in Wales. These include dental simulation (hands-on), traditional study days, conference and online continuing professional development (CPD). All courses provided by the section meet the general dental council (GDC) requirements for verifiable CPD.
Please note, some of our courses may be supported by commercial companies, however HEIW does not endorse the products, equipment or materials provided by these companies.
GDC requirements
The enhanced CPD scheme started on 1 January 2018 for dentists and 1 August 2018 for dental care professionals. View an interactive session with Kirstie Moons, Associate Director for Dental Team Workforce Planning and Development, which provides further information.
The main changes to the scheme are:
The requirement for all dental professionals to have a personal development plan (PDP)
An increase in the number of verifiable hours for most professional titles and the requirement to spread the hours more evenly across the five year cycle
Dental professionals no longer have to declare non-verifiable CPD to the GDC
The requirement to make an annual statement of CPD hours completed, even if zero hours have been completed for that year
The requirement to align CPD activity with specific development outcomes
The requirement for professionals to plan CPD activity according to their individual "field(s) of practice".
Dental professionals are strongly advised to be familiar with the GDC's guidance document to understand their CPD obligations for maintaining registration. The guidance document gives dental professionals all the information they need to know, to understand the requirements of the CPD scheme over their CPD cycle.
The hours requirement
Depending on your registrant title, you must do a certain minimum number of hours of verifiable CPD for each five year cycle, as set out below. You may continue to do non-verifiable CPD, however all hours submitted to the GDC must be verifiable.
| Registrant title | Minimum hours of verifiable CPD per five year cycle |
| --- | --- |
| Dentists | 100 |
| Dental therapists | 75 |
| Dental hygienists | 75 |
| Orthodontic therapists | 75 |
| Clinical dental technicians | 75 |
| Dental nurses | 50 |
| Dental technicians | 50 |
Development outcome
Example of CPD content
A

Effective communication with patients, the dental team, and others across dentistry, including when obtaining consent, dealing with complaints, and raising concerns when patients are at risk

Communication skills
Consent
Complaints handling
Raising concerns
Safeguarding
Incident reporting

B

Effective management of self, and effective management of others or effective work with others in the dental team, in the interests of patients; providing constructive leadership where appropriate;

Effective practice management
Business management
Team working
Leadership skills
Skill mix
SOSET

Human factor training
Resilience
Health & safety
Quality Improvement

C

Maintenance and development of knowledge and skill within your field of practice;

Hands-on – endo, toothwear, perio, implant maintenance, clinical photography, Hall Crown techniques, OS updates, paediatric dentistry, etc.
IRMER
Radiation Protection
IP&C
Oral Cancer/ Mouth cancer detection
CPR & Medical emergencies
Minimally Invasive Dentistry (MID)
BSP classification of perio disease
Dementia
Diabetes
Implant maintenance
Brief Intervention – smoking and alcohol cessation

Chronic diseases
Pharmacological issues
Pharmacy in dentistry
Special Care dentistry
Sedation updates
Delivering Better Oral Health/ preventive messages

Extended duties (for DCPs)

RoS
Impression Taking
FV application
Plaque Indices
Post cert courses – Rad, Ortho, Sed, Sp Care; OHP

D

Maintenance of skills, behaviours and attitudes which maintain patient confidence in you and the dental profession and put patients' interests first.

Ethical and legal issues and developments
Professional behaviours/ Professionalism
Equality and diversity training
Data protection & GDPR
Confidentiality
Record keeping
For a list of available CPD courses within HEIW visit our course booking system.