Mental health nurse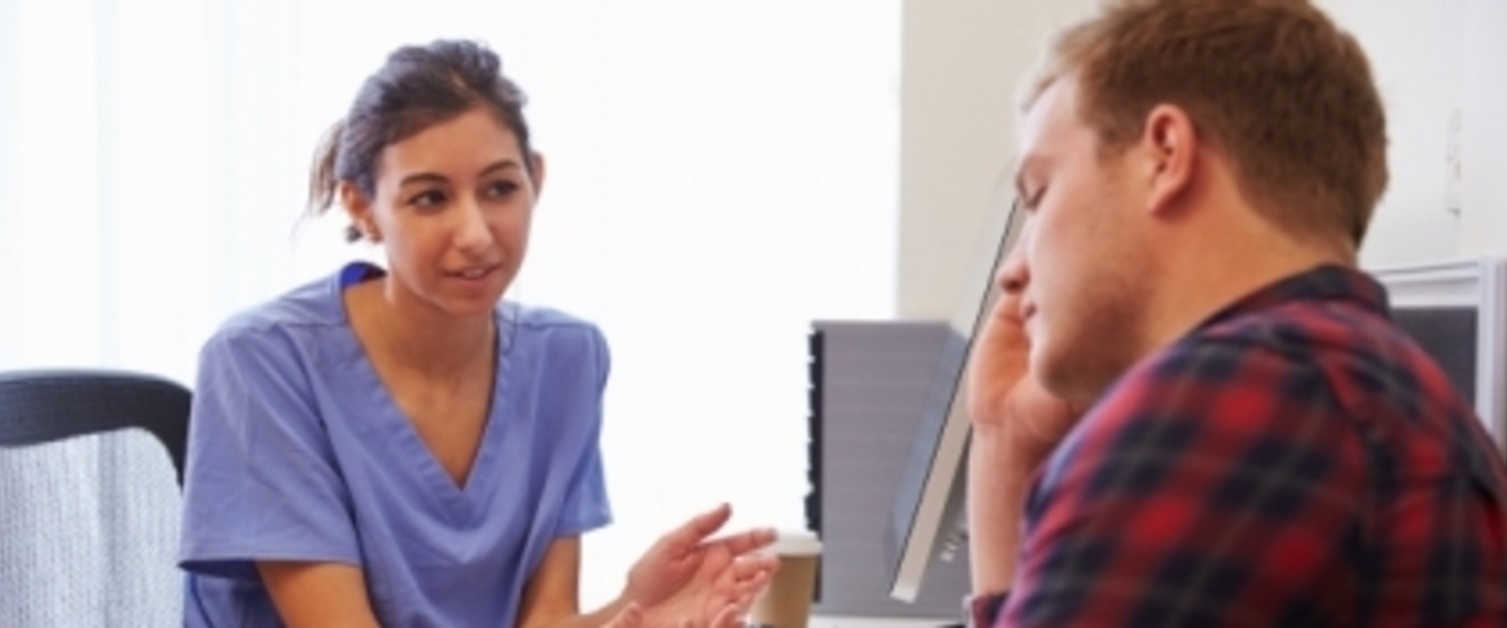 What is a mental health nurse?
Mental health nursing is an extremely diverse role with specialities ranging from working with children to the older generation. The work involves helping individuals to recover from their illness or come to terms with it in order to lead positive and independent lives.
Is mental health nursing the right career for me?
Mental health nursing is a demanding but rewarding career choice that can be full of life changing experiences; helping people back to mental health is every bit as valuable and satisfying as caring for those with a physical illness.
A mental health nurse has to be sympathetic and non-judgemental. You will need to be able to work collaboratively with people, gain their trust and be adept at managing emotional situations. The risk of violence is often associated with mental health nursing and a number of skills are needed to spot the build-up of tension and defuse it, including:
observational
interpersonal communication
psychosocial
thinking on your feet and staying calm
problem solving
good judgement
offering advice
What does a mental health nurse do?
Mental health nurses work with people who are experiencing a wide range of mental health difficulties. For some people, mental illness can be triggered by an event such as divorce, the death of someone close, birth, alcohol and drug abuse in personal circumstances, including at work.
Much of mental health nurses' work involves promoting good mental wellbeing, working with people who are experiencing severe mental health problems and supporting recovery for those who have experienced mental health difficulties. Trained about the legal context of the work, mental health nurses are able to identify whether and when someone may be at risk of harming themselves or someone else.
As a mental health nurse you will be a central part of a multidisciplinary care team, often being the primary care co-ordinator. Working with doctors, psychologists, social workers, occupational therapists and healthcare assistants (amongst others) you will build good relationships with colleagues, your patients and their families so that everyone is involved in the process.
Where do mental health nurses work?
Mental health nurses work in a wide range of settings but are usually based in hospitals or the community as this is where the majority of mental health care is offered. Within the community setting mental health nurses work in:
GP surgeries
Community mental health centres
Residential centres
Patients' homes
Within a hospital mental health nurses may work in:
A mental health admissions or recovery ward
A psychiatric intensive care unit
Outpatients clinics
Specialist services such as eating disorders or services for people who have more complex or challenging needs
How much do mental health nurses earn?
In NHS Wales, the starting salary is band 5 for a newly registered nurse. For more information about bandings and pay scales visit our Pay and Benefits page.
What career progression opportunities are available for mental health nurses?
Mental health offers many different and flexible employment options. Once you've qualified and gained some clinical experience you could become a:
Specialist working with children, adolescents or women
Lecturer in a university
Researcher
Service Manager
Advanced Practice Nurse
Nurse consultant
Or you may also want to consider areas outside of nursing such as the roles in the psychological therapies such as a psychological well-being practitioner or high-intensity therapist.
How do I become a mental health nurse?
| | |
| --- | --- |
| Do I need a degree? | Yes, if you want to work in the NHS you will need to complete a Nurse and Midwifery Council (NMC) approved course. |
| Where can I train in Wales? | Visit the Pre-registration Education courses page to find out more. |
| Is there funding available? | Yes, for further information about available funding and eligibility please visit Student Awards Services. |
| Do I need previous experience to apply for the course? | Having any experience in a caring role, both professionally and personally, will be an advantage. |
| How do I get experience? | To find out about work experience and volunteering opportunities in NHS Wales visit our Work section. |
| How do I apply for a job? | All vacancies for NHS Wales are advertised on NHS Jobs. Visit our Work section for more information. |
Useful links: