Pay and benefits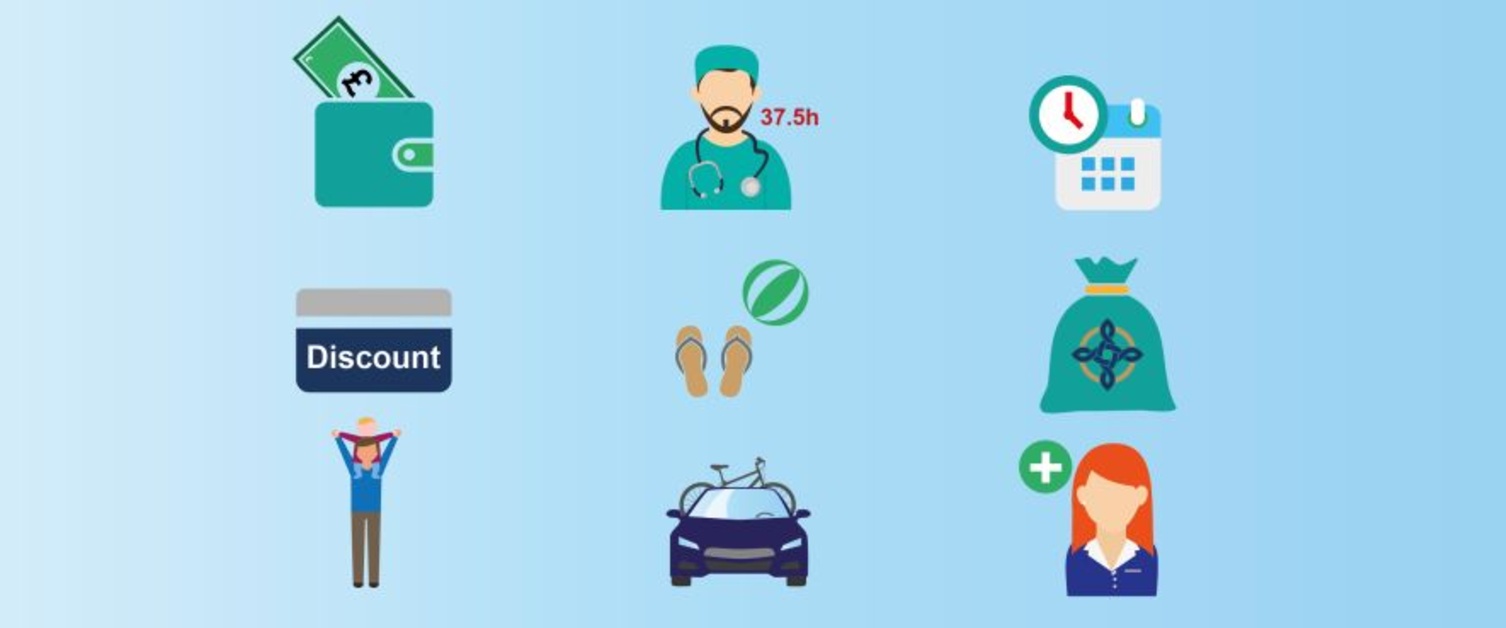 Why would you want to work for NHS Wales?
Here are 7 of the many great reasons to work for NHS Wales:
It's a rewarding job choice with amazing opportunities!
With over 350 roles to choose from you can spend your whole career with NHS Wales making a real difference to your local community.
We'll invest in you
We pay the fees for a number of healthcare degrees and there are also bursaries available.
You don't have to go to university to work in NHS Wales
We'll train you on the job, which means you can start earn while you learn!
We'll help you achieve your career goal
With an annual personal development review we'll support your career aspirations.
Want job satisfaction? You've got it!
Because we bring likeminded people to together you'll be in good company.
Achieve work/life balance
If 28 days leave and bank holidays weren't enough you can also purchase extra leave. We also have a range of flexible working patterns and enhancements for working on weekends.
As an NHS Wales employee your views matter
We consult our staff as part of decision making processes by inviting them to take part in staff surveys.
Benefits
You'll get loads of perks and here are just some of them:
Incremental pay increases
37.5 hour standard working week
Pay enhancements for shifts, overtime or out of hours
28 days holiday that increases with service plus bank holidays
The NHS Pension Scheme is one of the most generous and comprehensive in the UK
Occupational health & counselling services
NHS Discounts
Flexible working arrangements to strike work/life balance
Childcare vouchers
Pay
The following information is a guide for the NHS Wales Agenda for Change pay scales. This covers all staff, with the exception of Drs, Dentist and very senior managers. When applying for a position you should check the banding with the employer.
*Bands 2 and 3 can progress to the top of scale after 2 years in post.
For information about medical and dental pay and conditions visit Health in Wales.
| Band | Pay Scales | Possible Roles |
| --- | --- | --- |
| 2* | £20,758 - £21,318 | Health Records Clerk, Receptionist, Radiology Department Assistant, Hotel Facilities Assistant |
| 3* | £21,730 - £23,177 | Physiotherapy Technician, Payroll Officer, Call Handler, Medical Technical Officer |
| 4 | £23,949 - £26,282 | Communication Develop Officer, Dental Nurse, Personal Assistant, Plumber |
| 5 | £27,055 - £32,934 | Newly qualified registered professional (nurse, physiotherapist, podiatrist, etc), Librarian, Translator |
| 6 | £33,706 - £40,588 | Theatre Practitioner, Senior Dental Technologist, Health Visitor |
| 7 | £41,659 - £47,673 | Clinical Psychologist, Senior ICT Project Manager, Property Surveyor, Report Radiographer |
| 8A | £48,526 - £54,619 | Senior Performance Standards Engineer (Ventilation) |
| 8B | £56,164 - £65,262 | Lead Infrastructure Architect |
| 8C | £67,064 - £77,274 | Head of Psychology and Psychological Therapies |
| 8D | £79,592 - £91,787 | Deputy Director of Workforce and Organisation |
| 9 | £95,135 - £109,475 | Chief Pharmacist |