What is Paediatric dentistry?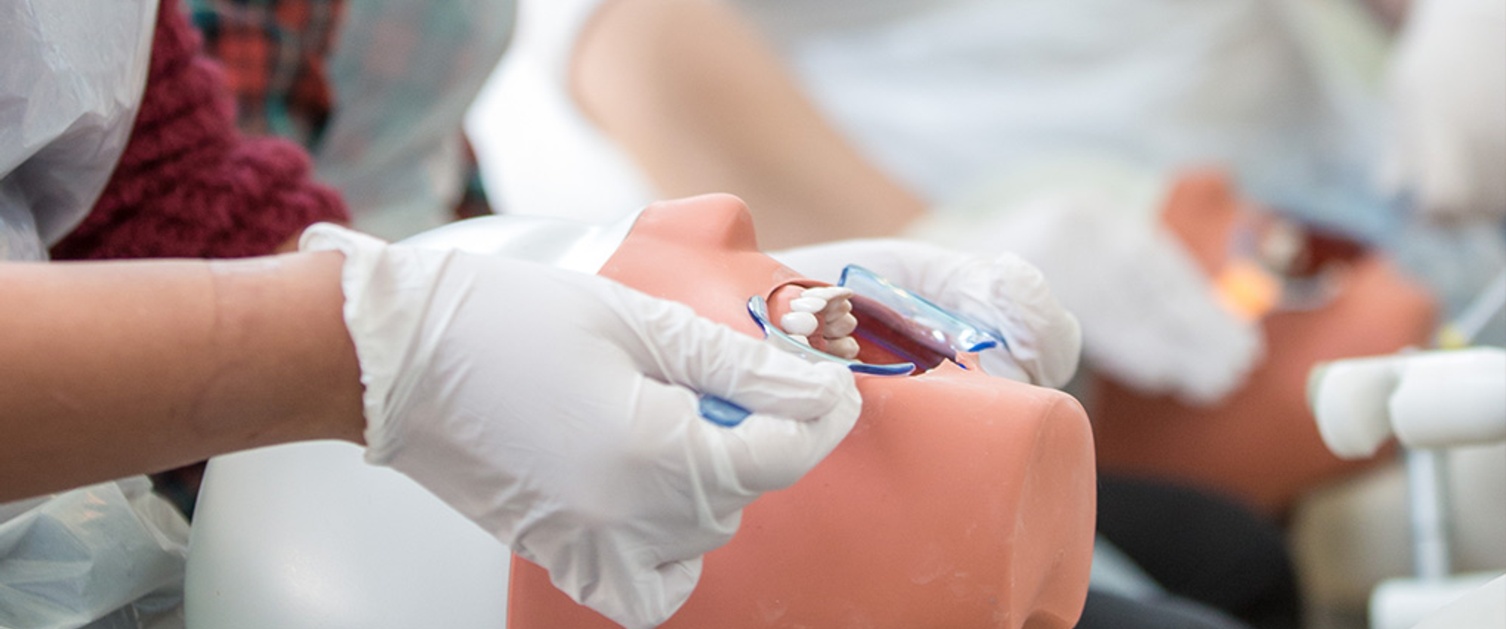 Paediatric dentistry is the practice, teaching and research into the comprehensive and therapeutic oral health care for children from birth to adolescence, including care for children who demonstrate intellectual, medical, physical, psychological and/or emotional problems.
Beth mae Deintyddion Pediatrig yn ei wneud?
Provide a full range of oral health care to anxious children and children with special needs
Specialised management of children with oral and dental developmental problems
Manage the damage sustained to teeth and the mouth following traumatic injury
Contribute to multidisciplinary care of children with complex problems, for example, cleft lip and palate, hypodontia, those with medical conditions which may impact on oral health.
What skills should I possess prior to applying to a specialty training programme in paediatric dentistry?
First and foremost, a paediatric dentist needs to enjoy working with children and be able to communicate effectively with them. A paediatric dentist also needs:
Excellent evidence-based clinical skills
A broad understanding of dentistry as a whole, with a willingness to develop their specialised knowledge
Good interpersonal communication skills with parents/guardians, other members of the dental team as well as with children and adolescents
To be a team-player who is able to both follow guidance and lead the dental team.
A keen interest in continuing their own personal career development.
What is involved in the paediatric dentistry specialty training programme?
Paediatric dentistry is unlike any other dental specialty in that it covers all aspects of oral health care for children such as restorative care (including endodontic treatment and prosthetics), minor oral surgery procedures, and interceptive orthodontics. Paediatric dentists also work closely with paediatricians, surgeons and anaesthetists as part of a team in the overall care of children with complex medical problems. In addition they may work with other agencies such as health visitors and social workers in managing vulnerable children.
Treatment for children can be carried out under local anaesthetic using a range of behaviour management skills. Sometimes it is necessary, because of medical or behavioural problems, to treat children using conscious sedation or general anaesthesia.
In order to train to be a paediatric dentist within the United Kingdom, you should apply for a specialty registrar training post on a recognised paediatric dentistry training programme:
Post BDS/BChD qualification, you will need to gain broad experience in general dentistry including hospital, community and general dental practice. A two-year foundation training or equivalent programme would give the desired range of experience. In addition, a maxillo-facial post is highly desirable, as is some additional experience of treating children
While the Diplomas of Membership of the Joint Dental Faculties (RCS England), the Faculty of Dental Surgery (RCS Edinburgh/RCPS Glasgow) or the Faculty of Dentistry (RCS Ireland) remain useful indicators of completion of this period, it is not essential that a candidate holds one of these qualifications
You should carry out some audit projects and aim to have one or two articles published. Attending local British Society of Paediatric Dentistry meetings will enable you to meet colleagues with similar interests and learn more about the range of the specialty. These types of activities will help when applying for a specialty training post.
Once accepted on to a training programme you need to successfully complete your supervised training programme and pass the Membership in Paediatric Dentistry examination. It is expected that a trainee who enters whole-time specialty training in paediatric dentistry with no relevant prior training in the Specialty will complete training in three years. Part-time specialty training is also possible and would usually be completed in around five years.
Paediatric dentistry specialty training programmes are available in the Hospital Dental Service with a number of programmes being linked with the Salaried Dental Service.
There is also the opportunity of carrying out an Academic Clinical Fellowship programme which provides both a clinical and academic training environment designed to provide support for individuals who have potential for development as a researcher. These programmes are also three year appointments providing full clinical training in paediatric dentistry and completion of a research MSc, at the end of which the trainee is expected to sit the Membership in Paediatric Dentistry examination. The expected career pathway would then be a PhD and further specialist training to achieve the additional competencies necessary for appointment at consultant level.
On completion of specialty training within paediatric dentistry what are my career options?
Paediatric dentistry specialists may work in a number of spheres including:
Independent practice including NHS or private practice
University dental teaching schools and hospitals and be involved in the teaching of undergraduate/postgraduate students and specialty trainees
The salaried health services either as a community based specialist or as part of a team in either a district general or a children's hospital
A further period of supervised training to become eligible to apply for, and be appointed to a Consultant post in paediatric dentistry.
Training Programme Director
Catherine Williams – Consultant in Paediatric Dentistry, University Dental Hospital, Cardiff
Specialty Training Committee Chair
Shannu Bhatia – Consultant in Paediatric Dentistry, University Dental Hospital, Cardiff
Specialty Training Administrator
Fran Yuen-Lee- Dental Postgraduate Section, HEIW, Ty Glas, Nantgarw
Where can I get further information?
The paediatric dentistry consultants and specialists at your local dental school and hospital are a good first point of contact
The relevant post graduate deanery can be contacted for information on the local application process
The General Dental Council also provide up-to-date information on specialty training and the specialist lists:
There are also various societies with websites where you can access further information including:
The Royal Colleges of Surgeons websites: Edinburgh, England, Glasgow.