Mental Health Series - Euan Hails, Consultant Nurse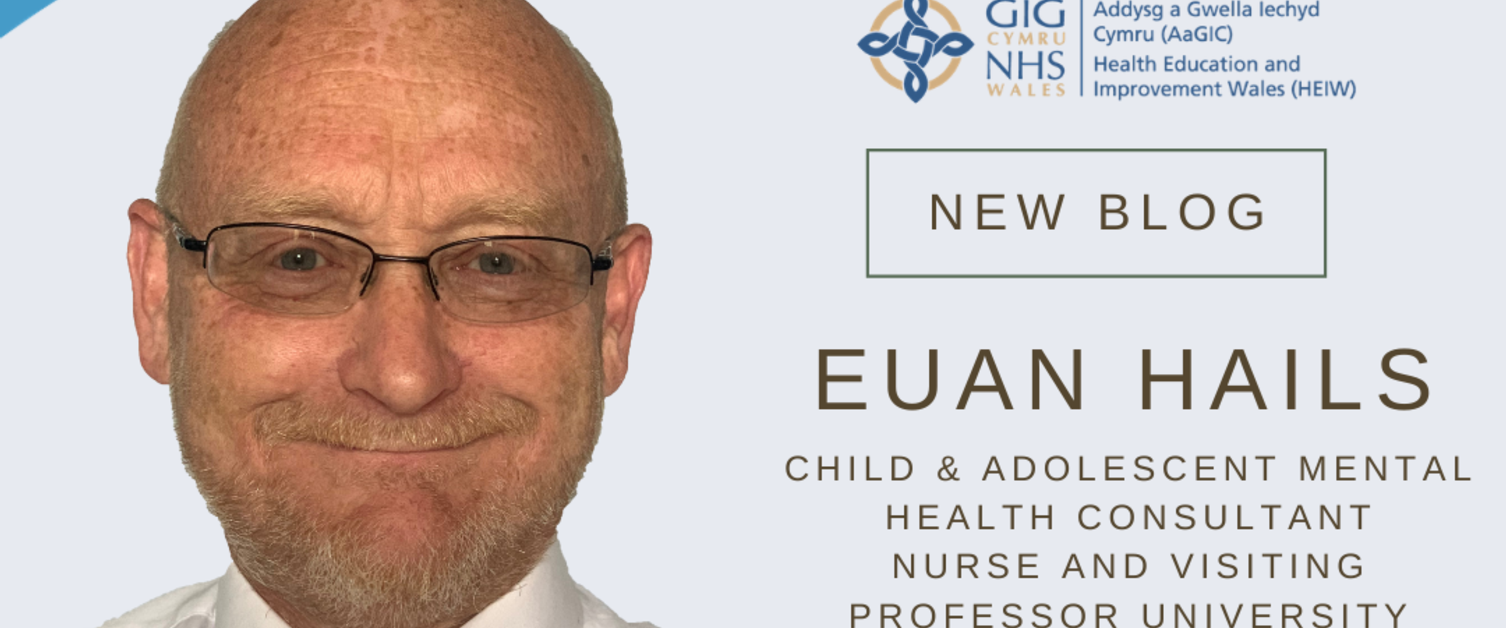 Dr Euan Hails, Child & Adolescent Mental Health Consultant Nurse, Aneurin Bevan University Health Board and Visiting Professor University of South Wales.
Having read Richard and Steve's 'Day in the life of a Consultant Nurse' blogs, it is interesting to see the similarities and differences within the roles of Consultant Nurses. It's great to understand the specialisms and expertise they have gathered within those roles and hear of the scope and impact they have had at their respective health boards across Wales.
I have been a Consultant Nurse in Specialist Child and Adolescent Mental Health Services (S-CAHMS) at Aneurin Bevan University Health Board (ABUHB) since late 2016.
My journey to a Consultant Nurse position involved both academic, clinical and managerial roles. I trained in Cardiff in the mid 1980's where I worked as a Staff Nurse for a couple of years at Whitchurch Hospital. I then moved to Australia, working as a Community Psychiatric Nurse (CPN) in a specialist community mental health centre in Sydney. It was here that I trained in counselling and psychotherapy, the start of my journey into psychological therapy provision and training.
Having returned to the UK, I worked at the Maudsley and South Lambeth Community Care Trust where I undertook my Thorn Training and Supervision courses, going on to specialise in working with individuals with Schizophrenia and their families/carers. This led me to run the Thorn course at the Institute of Psychiatry under the supervision of Professor Kevin Gournay, working closely with Cath Gamble and colleagues at the Section of Psychiatric Nursing.
Whilst in London, I did my Maters Degree, Cognitive Behavioural Therapy (CBT) training and PGCE. I then moved back to Wales and worked as a Cognitive Behavioural Psychotherapist, developing psychological therapies training with local university providers. It was in this role that I developed and accredited the West Wales Thorn Initiative.
Moving back to Australia in 2006, I worked as a Clinical Nurse Consultant at a large Health Authority in Sydney, before taking up the role of Nursing Officer for Mental Health and Learning Disabilities at the Office of the Chief Nursing Officer (part of the New South Wales Department of Health).
On returning to the UK and Hywel Dda University Health Board, I specialised in first episode psychosis and helped to develop and direct Early Intervention in Psychosis (EIP) developments across Wales with Steve Williams, Nurse Consultant in Serious Mental Illness (SMI). During this period, I completed my doctoral studies at Cardiff University where I conducted research into CBT training and the application for nurses and allied health professionals into clinical practise. The role of the Nurse Consultant bridges the clinical practice gap, working clinically in the Health Boards and academically at a partner university.
My role as a Consultant Nurse in S-CAMHS at ABUHB is one of the most rewarding and fulfilling jobs I have ever been lucky enough to have. Similar to Steve and Richard, I am the clinical lead for nursing related services and provide professional leadership to the nurses in S-CAMHS and related Family and Therapy Division services. I carry a small targeted case load of children and young people and deliver CBT and Eye Movement Desensitisation Reprogramming (EMDR) as an accredited psychotherapist. I also developed and delivered psychological therapy training and supervision across S-CAMHS as well as the first Advanced Nurse Practitioner (ANP) role in our S-CAMHS provision.
I have strong academic links being a Visiting Professor with the University of South Wales and a Visiting Associate Professor with the School of Medicine at Swansea University. I also sit on a number of boards and committees including; the University Health board (UHB) Research and Developmental Committee, Psychological Therapies Management Team, Mental Health All Wales Senior Nurse Advisory Group, Royal College of Nursing (RCN) Children and Young Peoples Forum Committee (as Welsh Lead), EIP National Steering Group, CAMHS Board, HEIW Learning and Development Framework steering group and the Consultant Nurse, Midwife and Health Practitioner Forum Cymru, which I chair. Finally, I am also a Trustee of Hafal (as well as their Vice Chair) and a Trustee of the Counselling in Prisons Network.
Fair to say I stay busy!
This year I was lucky enough to be awarded a Florence Nightingale Foundation (FNF) Digital Leadership Scholarship (Wales) and was made a Fellow of the Bevan Commission. I think that as a Consultant Nurse it is important that we take a leadership and strategic role both within our Health Boards and nationally. Like Steve and Richard, I really enjoy working with my colleagues in S-CAMHS and those across ABUHB, developing excellent and up to date evidence-based services with, and for, our service users and their families/carers.
Thinking of a 'Day in the Life' theme of these blogs, I will take you through my day today:
At 08:30 I checked my emails, moved a CBT supervision session for one of our junior doctors who is providing CBT under my supervision (I supervise all the junior doctors in CBT) and checked out the plan and agenda for the Powys S-CAMHS Peer Review day. I was down to lead two of the four sessions with colleagues from Cardiff and Vale UHB and Betsi Cadwaladr UHB. We had the introduction to the day meeting at 09:15 chaired by Dr David Williams, before moving into our first session at 10:50. We discussed a number of questions focused on their CAMHS assessment and clinical provision. I then answered some emails, shared some information across my S-CAMHS service and arranged several clinical and review meetings with colleagues.
After lunch, I attended the peer review drop-in session before chairing my second session of the day focused on training and psychological therapies. I also spoke with some of my FNF Scholarship colleagues as well as the RCN regarding the RCNi Nursing awards ceremonies which took place in the evening.
Another quick check of my emails, a chat with our ANP about some upcoming interviews and a discussion with the Divisional Nurse finished off my main working day.
On to the evening…
At 18:00 I logged into the RCNi Virtual Awards Ceremony where I was a finalist in the Mental Health Nursing category. At 21:00, I finished up my cup of peppermint tea just as an old colleague of mine, Geoff Brennan, won the award for the excellent 'Starwards' project – a huge congratulations to Geoff.
The role of a Nurse Consultant is a challenging one, even more so in these difficult times of Covid-19, but it is also a very rewarding one. It combines all areas of nursing; clinical, leadership, research and development, strategic development, advanced practice, political awareness and targeted specialism. It is a role I would recommend to others and I am more than happy to discuss the role further with interested nurses, service leads and developers.
Other blogs in the series:
---
If you are interested in talking about the mental health workforce in Wales, take a look at our online conference 'Informing the future of the Mental Health Workforce in Wales'. The content is available until the end of October and we welcome your views.
You can also join us in a series of online Q&A events led by experts in the mental health workforce field.