A day in the life of a mental health consultant nurse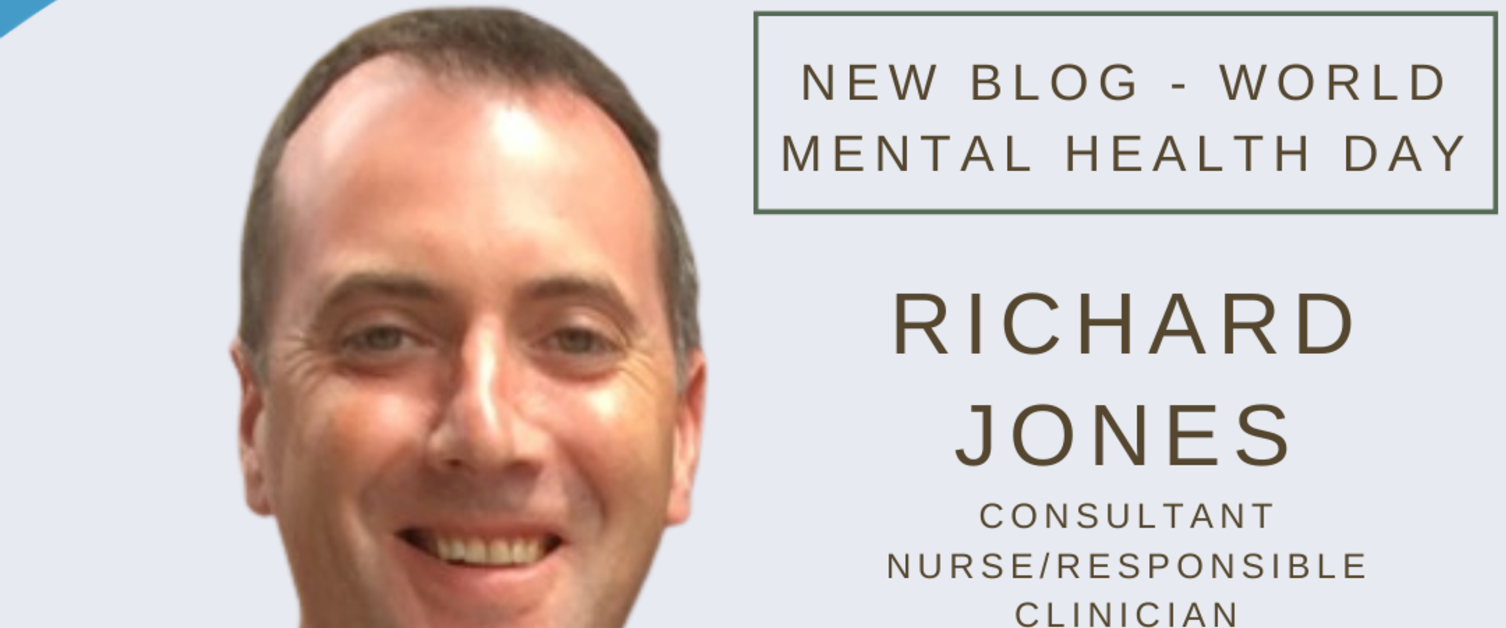 This year's World Mental Health Day comes in the midst of a global pandemic. Mental health and wellbeing now, more than ever, is increasingly important.
To mark the day, we hear from Consultant Nurse, Richard Jones who helps deliver Mental Health and Learning Disabilities (MHLD) Services at Hywel Dda University Health Board.
---
A day in the life of a mental health consultant nurse
by Richard Jones, Consultant Nurse/Responsible Clinician, Mental Health and Learning Disabilities (MHLD) Services, Hywel Dda University Health Board
I currently work in a Psychiatric Intensive Care Unit (PICU) as a consultant nurse, but am also an advanced nurse practitioner, non-medical prescriber and an approved clinician. I lead a multidisciplinary team of healthcare professionals who work to deliver care to people who are very unwell, requiring a smaller ward with a higher ratio of staff to support them.
Anybody admitted to a PICU is typically done so under the Mental Health Act (MHA). Being an approved clinician means that I am responsible for all of my patients' care and treatment; a big responsibility.
In addition to my clinical work, I have several other responsibilities which include:
implementing a huge range of changes to our mental health services to make it easier to access mental health and wellbeing support
engaging with our service users and carers to understand their views on what we are doing
developing the mental health nursing workforce
liaising with Welsh Government about mental health policy and law decisions
undertaking original research; and
reviewing education and training needs.
So, what exactly does a day in the life of a PICU consultant nurse look like.
Monday - 8.15am
I've arrived early enough to ensure I have time to put the kettle on and read through any messages/clinical notes from over the weekend. Before the pandemic I would normally use this time to call into the ward to catch up with the team, but these days it's best to avoid going into the clinical areas unnecessarily.
9.15am
I join my colleagues from across adult mental health services on a video call to discuss what has happened over the weekend and whether anyone requires support. Once the call is over, I don my face mask to head to a socially distanced handover with the ward team, which is made up of doctors, nurses and occupational therapists. Today is a good day. Some of the treatment plans we have started with services users are showing real benefit. It looks like I will be able to take one person off their 1:1 observation and another may be able to move on to one of our open wards.
10.30am
Time for a video conference with the Head of Nursing for MHLD services followed by a meeting with the charge nurse for the ward. This is our opportunity to discuss any admissions we are expecting. Tomorrow, it looks like we will be receiving a male from a prison who needs to have his mental health assessed. In anticipation of his arrival, we need to make sure that we have all the required paperwork under the MHA in place as well as a designated area of the ward ready so that we can test him for Covid-19.
Noon
I've got time for lunch! I manage a quick walk around the hospital grounds before the next meeting. It's so important to have a little bit of time away from work to regroup.
1pm
The afternoon starts with the ward business meeting. This is where I meet up with the senior team, and anybody else who has an interest, to look at how the ward is doing in terms of its standards of care. We discuss issues such as the ward environment, whether we have any staff off work for any reason, our use of medicines, our use of any form of restrictive practice and why, etc. We constantly compare ourselves to national standards and encourage any ideas or suggestions for improvement from staff and service users. It's important to reflect on how we and our staff feel, and whether we are looking after ourselves, as well as our service users.
2pm
Time for some individual reviews of service users. This is what the job is really about; spending time talking to people, understanding their concerns and working out plans together that can help towards recovery. I'm very pleased to confirm that one patient longer requires 1:1 observation and that a second can move to an open ward. This is made even better when they express their thanks for the care that they have received on our ward.
3.15pm
I get to meet with a community psychiatric nurse who has expressed an interest in becoming an advanced nurse practitioner. I am delighted to see this individual wanting to progress and develop their skillset.
4pm
The rest of my day is taken up with writing the outcomes of my patient reviews in clinical notes, addressing any other clinical matters, speaking to colleagues on the ward and catching up on anything else that I need to get done before the end of the day.
So, there you have it, just one day in the life of a mental health consultant nurse.
Working within mental health services has given me a hugely varied and rewarding career. I am very fortunate to work with such wonderful colleagues, service users, carers and families.
Other blogs in the series:
---
If you are interested in talking about the mental health workforce in Wales, take a look at our online conference 'Informing the future of the Mental Health Workforce in Wales'. The content is available until the end of October and we welcome your views.
You can also join us in a series of online Q&A events led by experts in the mental health workforce field.