Spiritual care to become part of Welsh nursing curriculum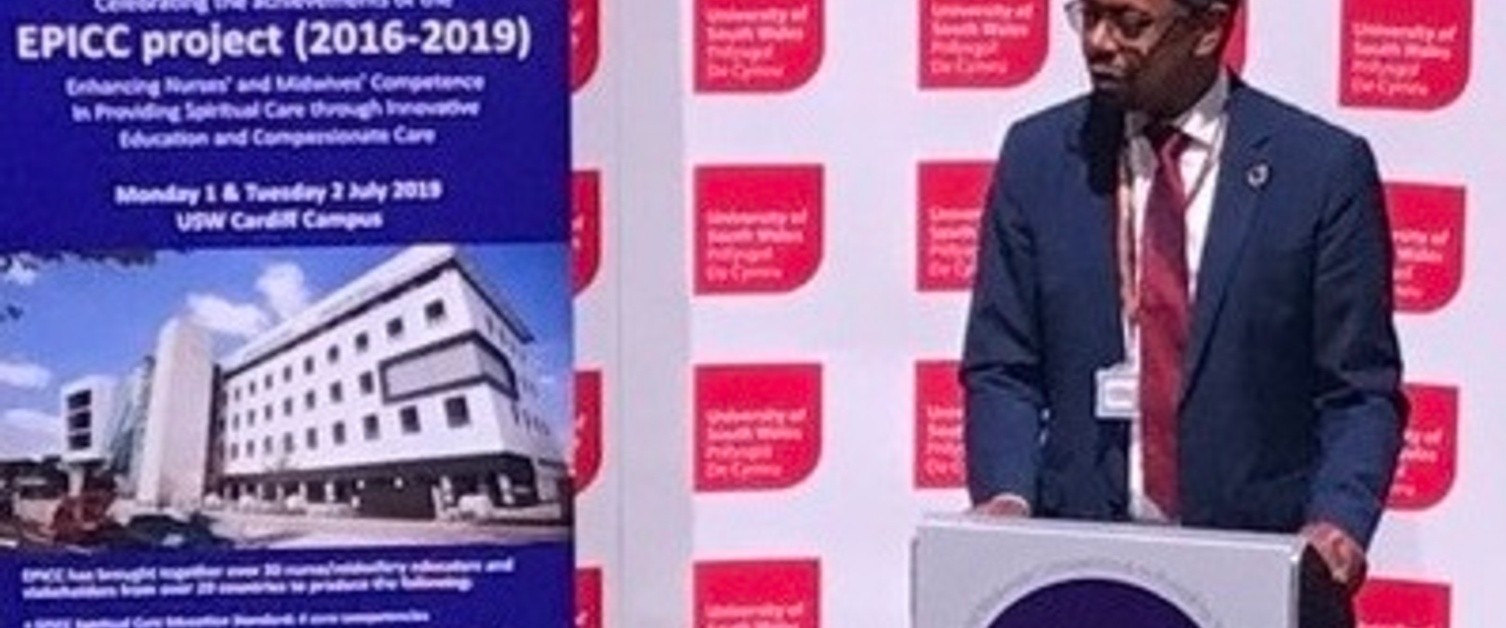 A new initiative aimed at recognising people's spiritual needs is to be incorporated into the training of all nurses and midwives working within the Welsh healthcare system.
The EPICC Project aims to embed approaches to holistic care and spirituality – which already exist within some healthcare systems across Europe – in the training of nurses and midwives who, by the nature of their work, bear witness to life changing events such as ill-health, births and bereavements on a daily basis.
Although many regulatory and educational bodies throughout Europe require nurses and midwives, on registering, to be able to address the personal, religious and spiritual beliefs of patients and individuals, how they acquire those skills has never been formally addressed.
Health Education and Improvement Wales (HEIW), the new organisation formed last October dedicated to educating, training and shaping the Welsh healthcare workforce, has now committed to working with its educational providers Bangor University, Cardiff University, Swansea University and the University of South Wales to ensure the standards are embedded within the pre-registration nursing curriculum.
The EPICC Spiritual Care Education Standard covers a broad range of competencies, knowledge, skills and behavioural attitudes designed to prepare nurses and midwives for the spiritual needs of people they may encounter through their work.
The EPICC Project, almost three years in the development, was also the subject of a two day conference that took place at the Cardiff Campus of the University of South Wales spanning Monday 1st – Tuesday 2nd July, during which the EPICC Spiritual Care Education Standard was launched.
"The EPICC Project focuses on the holistic approach to nursing and midwifery, taking into account the wider needs of patients and individuals in the healthcare system," says Stephen Griffiths, Director of Nursing at Health Education and Improvement Wales (HEIW).
"Spirituality isn't necessarily about religion, although that can form a significant part of it. It's more about recognising and respecting the dignity of people who are likely to be experiencing a broad range of emotions. Your spirituality is a part of who you are. That doesn't end just because, for example, you're admitted to a medical ward in a hospital.
"Here in Wales, we believe it's important to embed EPICC's Spiritual Care Education Standard into the curriculum which HEIW provides through the universities of Bangor, Cardiff, Swansea and South Wales. From 2020, anyone studying on our nursing programmes will need to reference, incorporate and demonstrate the need to respect the spirituality of individuals. It's about building a healthcare system for the future which recognises and responds to the human spirit when faced with life-changing events."
Besides Wales, EPICC's Spiritual Care Education Standard is steadily being adopted by other countries throughout Europe, with the content and application varying according to the culture and language of the country in question.
The two-day EPICC Cardiff conference in July featured a number of key speakers including Professor Jean White, Chief Nursing Officer for Wales, and Vaughan Gething AM, Minister for Health and Social Services within the National Assembly of Wales.
The EPICC Project (Enhancing Nurses' and Midwives' Competence in Providing Spiritual Care through Innovation Education and Compassionate Care) is led by eminent nursing lecturers from six universities spread across Malta, the Netherlands, Norway and the UK, and is co-funded by the European Union's Erasmus Programme.
ENDS
Notes to Editor:
Photo: Vaughan Gething AM – Minister for Health and Social Services talking at the EPICC conference
Health Education and Improvement Wales (HEIW) was established on 1st October 2018. It is a special health authority within NHS Wales created by bringing together three key organisations for health – the Wales Deanery, NHS Wales' Workforce Education and Development Services (WEDS) and the Wales Centre for Pharmacy Professional Education (WCPPE).   
Sitting alongside health boards and trusts, HEIW has a leading role in the education, training, development and shaping of the healthcare workforce in Wales. Its key functions include education and training, workforce development and modernisation, leadership development, strategic workforce planning, workforce intelligence, careers and widening access.  
Further information can be found at https://heiw.nhs.wales/