Learning Disability Nurse Series – Nichaela Jones, Head of Nursing for Learning Disability services in North Wales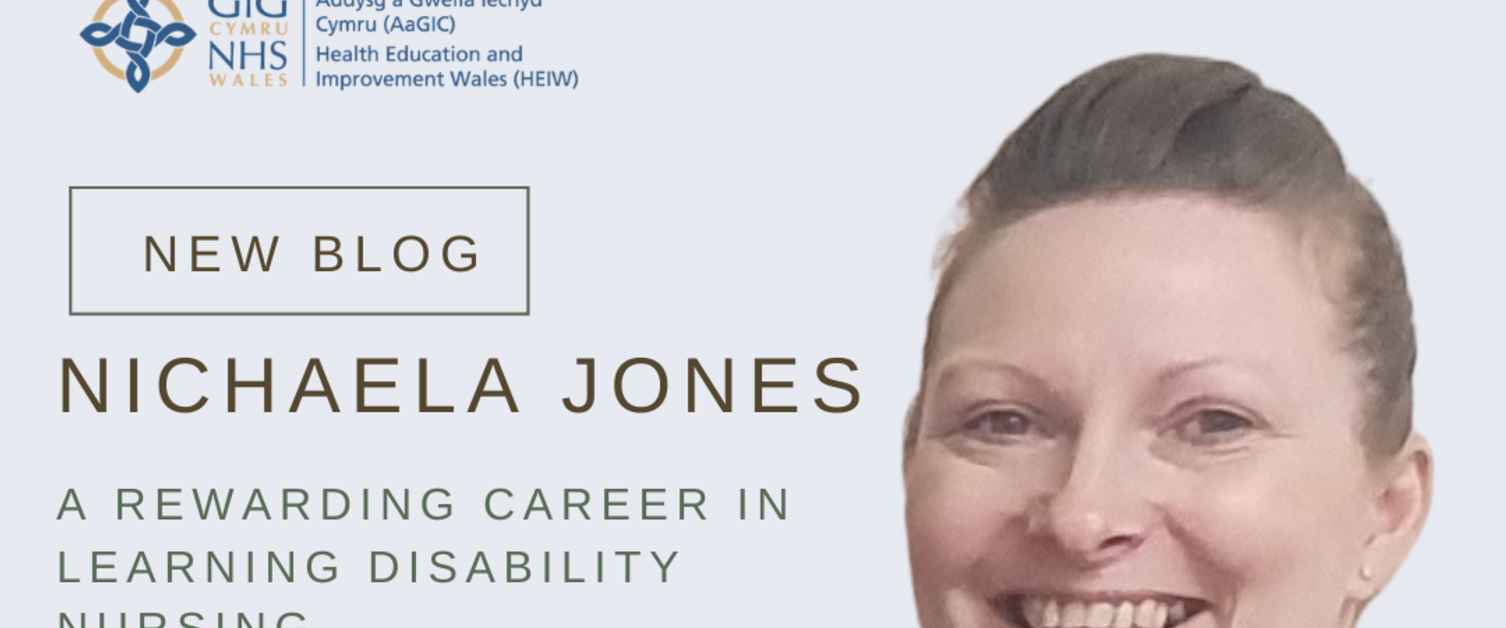 There are many reasons why you should consider a career as a learning disability nurse. It offers you the chance to make a difference, it has a high degree of flexibility and a career with excellent employment prospects. As Nichaela demonstrates in the last in our series of blogs.
I am a Head of Nursing for Learning Disability services at Betsi Cadwaladr University Health Board, a post I have held for the past 2 years. My current role also includes me being the Head of Nursing for Substance Misuse Services. Prior to becoming the Head of Nursing. I have worked in various role's including a health care support worker, working with people with learning disabilities in a long stay hospital from the age of 17 years and also working with people with learning disabilities to community settings, before I went to do my learning disability nurse training in 2003. From this time I have continued to have the pleasure of working in various roles and in a range of community; domiciliary care and inpatient settings within the NHS.
Since I started my privileged career working with people with learning disabilities, I have always wanted to become a nurse. Unfortunately, I did not have the appropriate qualifications to apply initially. But with hard work, I achieved the level 3 National Vocational qualification which enabled me to then apply and then there was no turning back. I completed by degree in 2006 and have completed my Masters in Educational Studies in Counselling and Psychotherapy.
I am lucky to have extremely supportive colleagues and peers, and have had strong role models and mentors throughout my career who have guided, supported and enabled me to progress within my career. Within Learning Disability services we have a strong ethos of working as part of a wider senior leadership team. This includes a Head of Operations; Clinical Director; Consultant Psychologist and Clinical Operation Managers.
As I write this we are entering a lock down in my local county area and we have been through the 1st wave of the changing world with Covid-19 in it where we have found ourselves adapting by the day. My role is diverse and covers 6 Regional Counties across North Wales where we have strong relationships and work in partnership with the Local Authorities. I also cover a domiciliary care service and an inpatient services. More recently my role has evolved into a flurry of skype calls and less face to face contact and I am primarily responsible for ensuring we provide qualify, effective and safe services for both our staff and the people we support. The most rewarding part of my role is receiving feedback from service users and engaging with the people we support. As with any role there are challenges aligned to ensuring people with a learning disability get the equal services that they deserve. We continue to support the voice of the people we support every day to ensure they get the right services, at the tight time with the right support and to achieve this a key function is for us to support the wider services to ensure reasonable adjustments are made.
Being a learning Disability Nurse is one of the most diverse and rewarding career choices anyone can ever make and I definitely count myself extremely lucky to have been able to have a career working with some of the most amazing people in our society and alongside likeminded colleagues who are passionate and extremely dedicated. As I write this I find myself reflecting on my career and would like to take the opportunity to thank those people who have made me the Learning Disability Nurse I am today and to take the opportunity to thank all of the amazing staff we have within learning disability services in North Wales who continue to come to work no matter what lies before them and the people we support and their families for giving us the privilege of coming into your lives.
Thank You and a Happy New Year
Nichaela Jones (A Very Privileged Learning Disability Nurse)
For more information on roles available visit Careers Wales;
https://careerswales.gov.wales/job-information/nurse-learning-disabilities/how-to-become
NHS Careers
http://www.weds.wales.nhs.uk/learning-disability-nursing