Learning Disability Nurse Series – Carrie Thomas shares her career experiences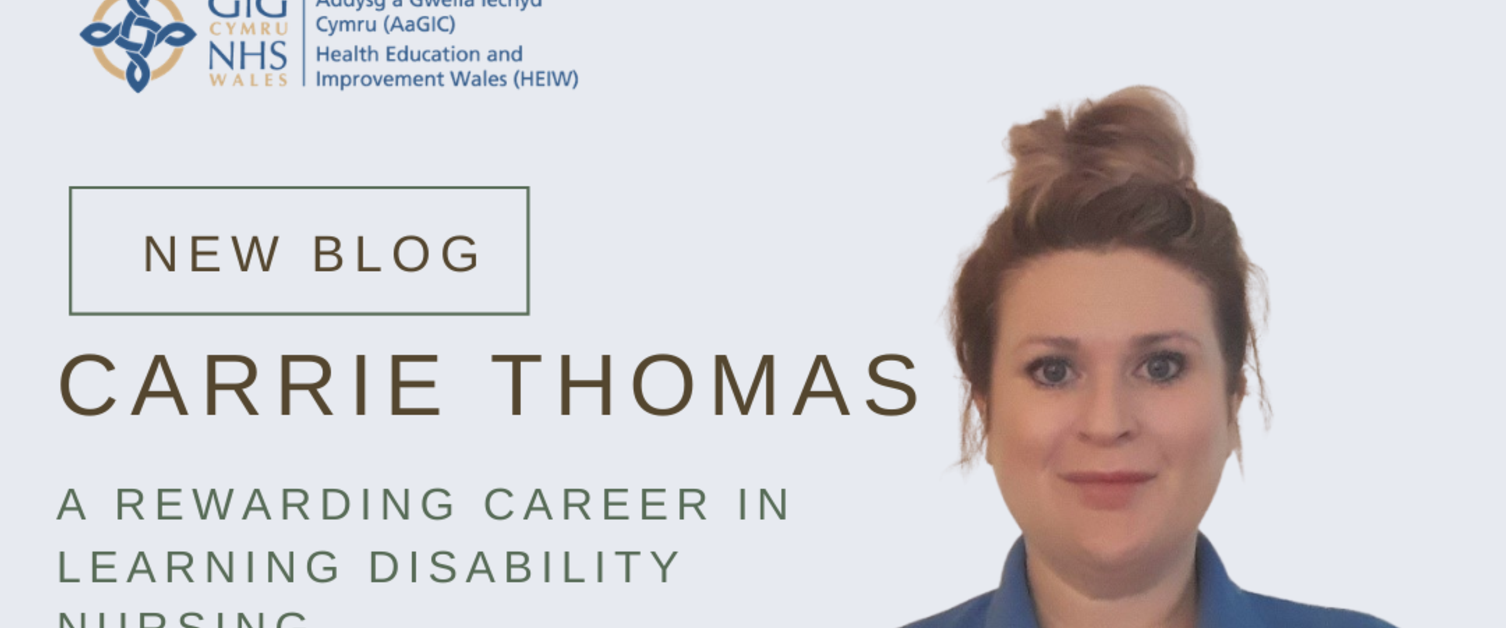 There are many reasons why you should consider a career as a learning disability nurse. It offers you the chance to make a difference, a high degree of flexibility and a career with excellent employment prospects.

Next up, Carrie shares her Learning Disability Nursing Career experiences in Wales, with us..
If someone had told me five years ago that I would be a Registered Nurse, I'd have laughed. Out of all the career options available, Nursing was the most unlikely choice for me. I started out working in Human Resources and part of my role was to identify work trials for people with learning disabilities and support their development. I really enjoyed this as I could see their confidence growing from being part of a team and learning new skills. My role changed significantly, and I started to look at a career change. I'd never heard of Learning Disability Nursing but after reading about how Registered nurses for people with learning disabilities (RNLD) support people with learning disabilities to lead independent lives, it resonated with me and I booked onto a Nursing open day in July 2016. Never in a million years did I think that I would be offered a place but four years later, I now work as a Staff Nurse at a busy Acute Admissions Unit based in Swansea Bay University Health Board.
I have been in my role since October 2019 and although I've been qualified just over a year, the exposure I've had and the experience I've gained in that space of time is unparalleled. The job is so varied, you need to be resilient and versatile. During a shift I carry out personal care, administer medication, write the nursing notes and review patients' presentation on a daily basis. As primary nurse, I am responsible for collating regular reports and implementing and evaluating care plans. This means attending meetings regarding the patient on a regular basis. For someone who avoided giving handover like the plague on student placements, I've really had to come out of my shell to fully meet the demands of the role!

Patients are admitted to our ward when they are acutely unwell and often display behaviours that challenge, usually due to a deterioration in their mental and/or physical health. This is where the role of a RNLD varies significantly to our adult nursing counterparts who focus mainly on the physical aspect of health. In this vein of nursing the approach is far more holistic, looking at the whole person. I work as part of a team of nurses, healthcare support workers and domestic staff who provide fantastic support and have a wealth of knowledge, skills and experience. I also liaise with the wider multi-disciplinary team. The role is not without its challenges, however, having a supportive team makes a world of difference. Due to patients being acutely unwell on the unit, we regularly deal with incidents of physical aggression which require skilled intervention. All staff are trained in Positive Behaviour Support and Management to support the patients and de-escalate the behaviour. Advocating for reasonable adjustments, low staffing levels, lack of understanding of our role and the barriers our patients face on a daily basis are just a few of the ongoing issues. Despite its challenges, being able to implement a range of interventions to help improve the health and wellbeing of the patients makes the job worthwhile. Being a RNLD has the potential to be so rewarding and there are a range of opportunities available through becoming a registered nurse in this field.

For more information on roles available visit Careers Wales;
https://careerswales.gov.wales/job-information/nurse-learning-disabilities/how-to-become