Learning Disabilities Nursing Series - Meet Star Moyo, a former Learning Disabilities Nurse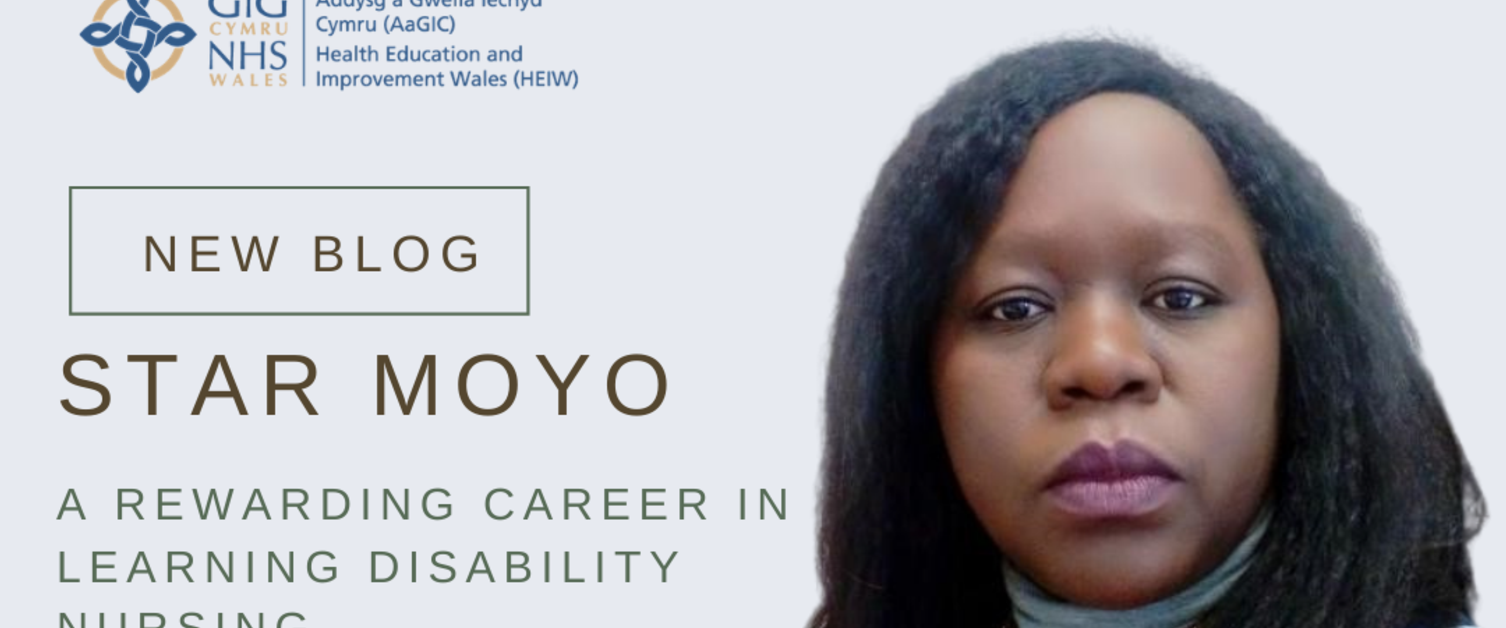 There are many reasons why you should consider a career as a learning disabilities nurse. It offers you the chance to make a difference, a high degree of flexibility and a career with excellent employment prospects. As Star demonstrates in the next in our series of blogs.
Star was a learning disabilities nurse but is now a senior nurse working with asylum seekers and vulnerable groups in Wales, Star shares her career experiences with us.
I am a senior nurse for asylum seekers and vulnerable groups which includes working with asylum seekers, refugees, roma and gypsy communities, homeless people and vulnerable women/sex workers.
As already highlighted, my role covers a wide scope, however I have support from other teams as well, who work with all the above vulnerable groups. I am responsible for providing a leadership and strategic role in initiating, developing and coordinating services at the Aneurin Bevan University Health Board and lead on relevant projects/initiatives relating to asylum seekers and vulnerable groups.
I work jointly with statutory and voluntary organisations, for example, Public Health Wales, Welsh Government, Newport Local Authority, Welsh Refugee Council, Eden Gate, The Wallich and Gwent Drug and Alcohol teams. Internally within our Health board, I work jointly with GP Practices, district nursing teams, specialist nursing teams, the specialist substance misuse service, community dental services, community mental health team, maternity services, sexual health, emergency department and many others.
I have been qualified as a learning disabilities nurse for 17 years and have always worked within the learning disabilities field within inpatients/hospitals, outreach services, Child and Adolescent Mental Health Services (CAMHS) and community teams. I have only been in my current post for the past six months, so it is still very early days and very exciting.
The client group that I work with has very complex needs and health inequalities, some of which are caused by lack of engagement with services; language barriers and cultural issues. I work in partnership with other stakeholders, my role is to establish and maintain liaison and co-operation to ensure the best care is provided including:
developing effective and accessible services easily available for those in need
planning service delivery for future needs
providing a comprehensive nurse screening service for asylum seekers and vulnerable groups by undertaking physical and mental health assessments and signposting to other professionals, for example, GP and mental health services
advocating for asylum seekers and vulnerable groups in relation to health issues.
I love my job as every day is different. What I like most is meeting people who are genuinely in need of services and being able to make an impact into their lives. For example, being able to use different communication methods like language line for those who do not speak English and helping them register with GPs, making dental referrals for them and providing local services for befriending schemes. My role is very diverse and I am learning a lot on a daily basis in terms of different languages and cultures. My son describes me as a chatter box and being in this job is perfect for me as I spend most of my days talking to people.
This client group faces health inequalities and challenges in getting services on board to meet their health needs. There is lack of awareness and clarity within different cultures and communities on what is acceptable and not acceptable when meeting needs. There is unconscious bias within services on this client group, which makes it difficult to meet needs.
As already mentioned above, my role is very diverse, I work with the wider teams. We are still a newly set up service in Newport and within my immediate team, I do have two other colleagues, a team administrator and a mental health support worker.
I am very lucky to be in a job that is very close to my heart as I was not born in this country and from the Black, Asian, Minority and Ethnic (BAME) community. This job is not for everyone, for you to enjoy it, you have to be able to understand this client group by having the awareness and compassion to meet needs. I love addressing health inequalities for this client group and advocating for their needs to be met and bring services to work jointly gives me so much satisfaction.
I come from a family of health professionals, mainly nurses and doctors, it was inevitable that I would also follow my family traits. I have always wanted to be a nurse, over the years I have noticed that as much as I have remained within nursing, I have become passionate about service development, mainly in addressing health inequalities for those vulnerable groups, for example, with learning disabilities, homelessness, asylum seekers, refugees, working girls, BAME community and roma and gypsy travellers.
For more information on roles available visit