Health Education and Improvement Wales-led project receives Gold Infection Prevention Society Impact Award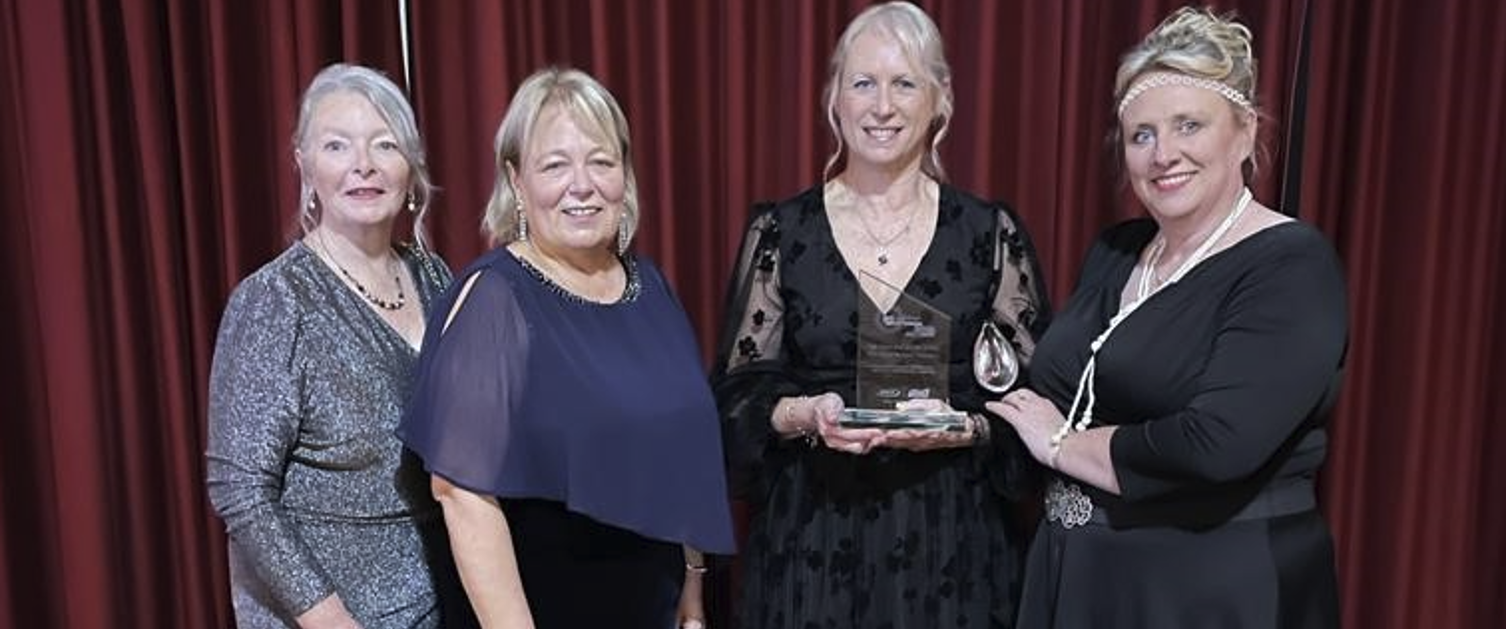 Health Education and Improvement Wales (HEIW), the strategic workforce body for NHS Wales, has received a Gold Infection Prevention Society (IPS) Impact Award for its infection prevention and control (IPC) programme.
Protecting patients and staff by reducing the risk and spread of infections in hospitals and the community is extremely important. All health boards have specialist IPC teams whose role is to help and support colleagues, patients and communities to reduce the risk and spread of infections.
The HEIW award-winning programme, involving partners from across NHS Wales and education, created a range of tools to further develop and increase the expertise of these teams to support colleagues and improve patient care.
The Nurturing IPC Talent award category recognises those who are supporting the development of the IPC workforce of the future – which aligns with HEIW's overarching vision to transform and develop the future workforce of NHS Wales.
Lisa Duffy, HEIW IP&C Programme Manager, who led this work while on secondment at HEIW, received the award on behalf of everyone involved at the IPC Impact Awards Ceremony.
Lisa said: "We're delighted to have received the Gold IPS Award for Nurturing IPC talent.
"The programme was a fast-paced collaborative effort between HEIW, IPC experts and partners from across Wales. I'd like to say a big thank you to the task and finish group members, whose contributions to the programme were pivotal."
The awards ceremony, which took place during International Infection Prevention Week, recognises and celebrates initiatives that demonstrate excellence, innovation or improvement in IPC practice, service delivery or education.
Charlette Middlemiss, Interim Deputy Director of Workforce Transformation at HEIW said:
"It's fantastic for all involved to receive recognition for the significant work undertaken as part of the HEIW Infection Prevention and Control Programme.
"At HEIW, we are committed to the training, education and development of the current and future NHS workforce to deliver high quality care. We're confident the outcomes from this work will positively impact patient care through the further development of the specialist infection prevention and control workforce in Wales.
"We're also really pleased to see the tools created have been recognised by colleagues outside of Wales and we're looking forward to sharing our work with them."
Mandy Rayani, Director of Nursing, Quality and Patient Experience at Hywel Dda Health Board, who chaired the task and finish group, and received the award with Lisa, said about the work:
"The recognition achieved at the IPS national conference is testament to the hard work of the teams across Wales and is well deserved. I was delighted to be able to play a leadership role in this important piece of work that was developed in collaboration with the community of infection prevention practitioners in Wales and facilitated through the commitment of HEIW. This is an interactive resource available for those working in health and social care, that also provides a platform for specialist practitioners for the future."
Reducing the risk and spread of infections is fundamental to providing safe high-quality patient care. HEIW is continuing to work in partnership with colleagues from across health and social care in Wales to ensure the continuous development of effective infection prevention and control methods in Wales.
The success and outcomes of the Infection Prevention and Control programme includes:
Analysed the current structure of IPC workforce teams across Wales healthcare settings for benchmarking purposes.

Generated an accessible list of current infection, prevention and control specialist education, development and training opportunities available across NHS Wales. This will make it easier for members of the IPC workforce to access development and training opportunities, which in turn will enable them to continue to ensure high quality patient care.

Reviewed the delivery of infection prevention and control education across higher education institution (HEIs) in Wales.


Developed an innovative digital resource and new All Wales Education, Development and Learning Framework, produced specifically for IPC in Wales. The resource will assist IPC specialists to reflect on their current level of practice and identify areas where they can benefit from further learning, education and development, to enhance or develop skills within their role. The framework highlights specific areas of training, learning and development that will enable the IPC workforce to build on identified and relevant competencies and meet essential IPC workforce needs that are critical for the next five years in Wales. The framework can be accessed

here.
Provided robust recommendations, generated from stakeholder engagement and thorough IPC workforce data analysis, to inform future IPC workforce development and improvement.
Image caption: Lisa Duffy, HEIW Infection Prevention and Control Manager (centre) and Mandy Rayani, Director of Nursing, Quality and Patient Experience at Hywel Dda Health Board and Chair of the project task and finish group group (left) receive award with colleagues.