Covid-19 student called up to Abercynon District Team as a community nurse.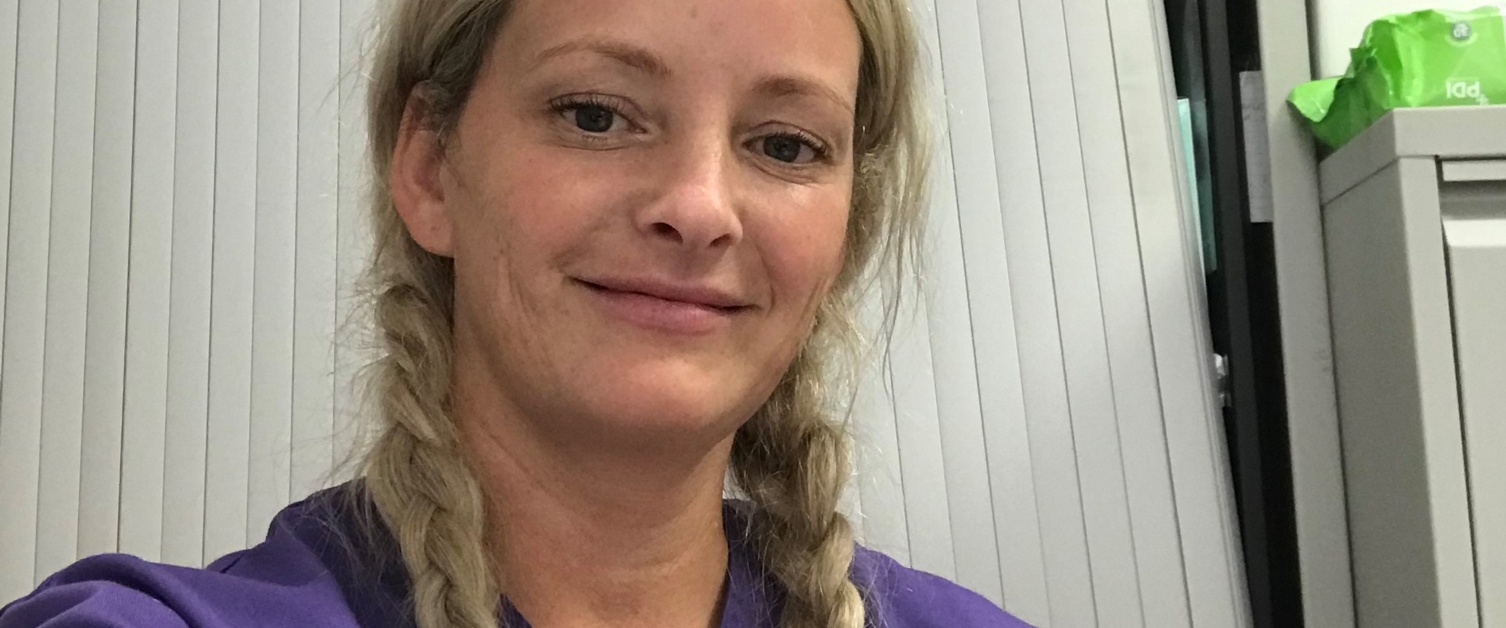 We interviewed Emma Thomas-Jones, a district nurse who was redeployed during Covid-19. Here's what she had to say about her career and recent experiences...
Tell us a bit about yourself.
I am 41 and I am a mother to three children; 23, 17 and 10. My husband and I have been married for 13 years but together for 20. My previous job was at a public house where I stayed for 17 years.
What made you want to pursue a career in nursing?
Most people know they want be a nurse before going into this field, all I can say is my route was not your typical route. During my time at the public house I knew I wanted to do something different. I knew I was sociable, kind, and loved to help everyone I could, so I decided to go to my local college (Coleg y Cymoedd) in the Rhondda, south Wales and have a chat with them. They decided I would be a good candidate for the course 'access to health'. I had to sit an English and maths exam first and I passed.
Tell us a bit about what your training was like.
I did the access to health course over two years at night school as I could not afford to give my work up. During my time at college I was told that I was dyslexic. This made a lot of sense to me as I always struggled at school and came out with not very good grades in my G.C.S.E's. After passing the access to health course, I did a foundation degree in community and health and wellbeing at South Wales University, and this is where I started volunteering for the war veteran. After passing this course I then embarked on my journey in to adult nursing. I have met lovely friends and tutors during my journey and have had lovely placements.
How has Covid-19 affected you and your training?
I had a 12 week placement arranged as a specialist practice nurse with a GP surgery. However, when Covid-19 came upon us I was deployed to a different area as a community district nurse. I was nervous and apprehensive as this was new to me but the team have been so supportive and caring, and nothing is too much trouble. I have loved every minute spent here and I loved it so much I have managed to have an interview and get myself a job as a district community nurse. After getting some more experience in this area I would love to do my masters in community nursing.
What does your new job as a district nurse entail?
During my time with the district nursing team I visit house bound patients and also shielding patients. I do an array of nursing intervention from dressings to catheters, diabetes management, injections, nursing assessments and much more. I have enjoyed all my training and I've learned new tasks on every placement. I am still learning every day and will continue to do so. I love my job and enjoy going to work as every day is different and has its challenges. I enjoy meeting patients and families. I also enjoy helping to resolve any issues or concerns, learning new skills and working in a team.
During your training and the pandemic what have you found challenging?
I found writing my essays challenging during my studies. Having dyslexia makes it hard but I have had very good support from a University tutor who helped me during the three years. The most memorable time as a student has defiantly been the change in the way Covid-19 has changed the way we all work. I have found this time to be very tough, especially for the loved ones who cannot see their families as they become so upset. The personal protective equipment (PPE) is ok to wear apart from the mask; they can be very restricting and hard to breathe in, but most off all when trying to communicate with your patients it puts a barrier between us, as they might struggle to hear. Of course we have improvised by using pen and paper or some people like to use iPads with text. Covid-19 is always a worry for me with my family but I know I take all the necessary precaution to limit any risk. Also I want to work. I want help people as this is very important to me and my family support me 100% and are proud off me.
What would you say to someone thinking about a career in healthcare?
If anyone was looking to go into health care I would tell them to go for it because there are so many different paths to go down and just because one is not suited to you try another, as this is a very rewarding career.
Thank you,
Emma.