Becoming a Learning Disability Nurse in Wales – hear from Paula Hopes on her unique role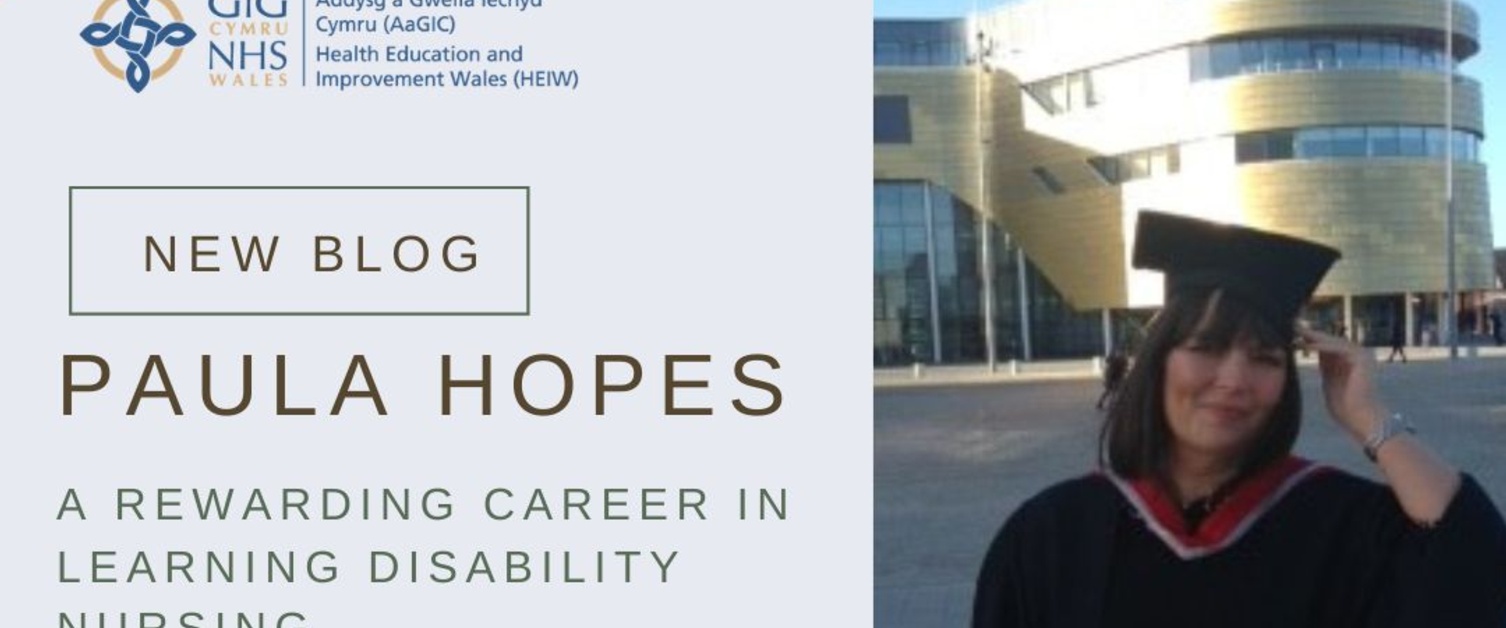 Learning disability nurses work to provide specialist healthcare and support to people with a learning disability, as well as their families and staff teams, to help them achieve their wants needs and wishes in life – It can be a challenging and rewarding career.
There are many reasons why you should consider a career as a learning disability nurse. It offers you the chance to make a difference, a high degree of flexibility and a career with excellent employment prospects.
First, meet Paula Hopes, a Learning Disability Consultant Nurse, based in Swansea Bay University Health Board.
I am a Learning Disability Consultant Nurse, I am the only learning disability nurse consultant in Wales and have been in post for just over 2 years. The role requires various leadership skills and developing relationships, networks and ways of working with my colleagues to provide leadership and support of leadership at all levels. Being visible is essential as a support to the professional nurse role. It is important that I am focused on facilitating the development of others through engagement across all parts of the service group and promoting evidence-based practice, role modelling values and demonstrating dignity and respect in my every day practice.
I previously worked as a learning disability nurse lecturer and seeing student nurses overcoming adversity, the challenges of juggling placement pressures with academic workload and achieving their dream, qualifying as a Registered Learning Disability Nurse and being part of the graduation ceremonies always gave me a huge sense of pride as a Nurse & academic. Now I see many of them in the services we have in Swansea Bay and love to see how they continue to develop and achieve their goals.
The role is really varied, I work closely with the Heads of Nursing and colleagues across mental health and learning disabilities from all professions. There is partnership working with primary and secondary care and a need to raise the profile of people with learning disabilities and the teams that support these individuals to have equal access to health care. I attend a lot of meetings within the Health board, across Wales and UK wide representing the voice of learning disability nursing within our own governance systems, safety, quality but also in partnership with universities, Welsh government, local and national networks and at an All Wales level.
I am about a great believer in upholding rights and treating other people in a way that I would want to be treated. I'm passionate about the recognition of the unique role of the learning disability nurse and the workforce issues we face. It's important to remember what it feels like to run a shift, manage a team, support someone's individualised needs, carry out a plan of care, review a risk assessment, assess a student nurse, provide emotional support to a colleague or a family member, this helps in my understanding of the culture, custom & practice of the workforce. I feel really strongly that communication needs have to be acknowledged and addressed in order to deliver excellent care and support.
I always wanted to be a nurse but didn't know what learning disability nursing was and it was a spur of the moment decision ticking the box on the application form because I had a few tentative links with people with learning disabilities and a family member with a recent diagnosis of Autism. I finished my A levels and continued in my part time job in a fast food restaurant until the programme started in January 2000 where I made the first steps towards registration and made friends for life. I love being a nurse, I've had various roles and learned lots of lessons along the way.
Top tips if you are thinking about a career in learning disability nursing
Do your research, make sure you know why people with learning disability need nurses specialised in meeting their health needs. People with learning disabilities die younger than the rest of the population due to health inequalities, there are barriers for them in accessing health care, and our job as learning disability nurses is to break down those barriers.
Think about the type of career that you want, I was always interested in data analysis, assessment and was curious about wanting to know 'why?' This led me to specialising in behavioural assessment and allowed me to be inquisitive, ask lots of questions and dig deep for answers.
Hone your communication skills it is essential that you learn about your own communication and the communication of others, they will teach you a lot about this at university and on placement. Knowing how to detect subtle indicators that someone with a learning disability is happy, sad, tired or in pain is essential to delivering good quality care. We all communicate in our own way and people with learning disabilities sometimes need others to unpick the message and advocate with and for them.
Make informal visits if you see a job you think you can do arrange to meet with the lead nurse or the team and talk to them about what it's like to work there, this will give you a great insight and understanding of the values that drive forward the experiences of people with learning disabilities. Meeting other learning disabilities should inspire your interest and passion for a life changing career.
Keep smiling, be yourself and make it fun!
For more information on roles available visit Careers Wales; https://careerswales.gov.wales/job-information/nurse-learning-disabilities/how-to-become