A spotlight on our current team of SAS tutors at HEIW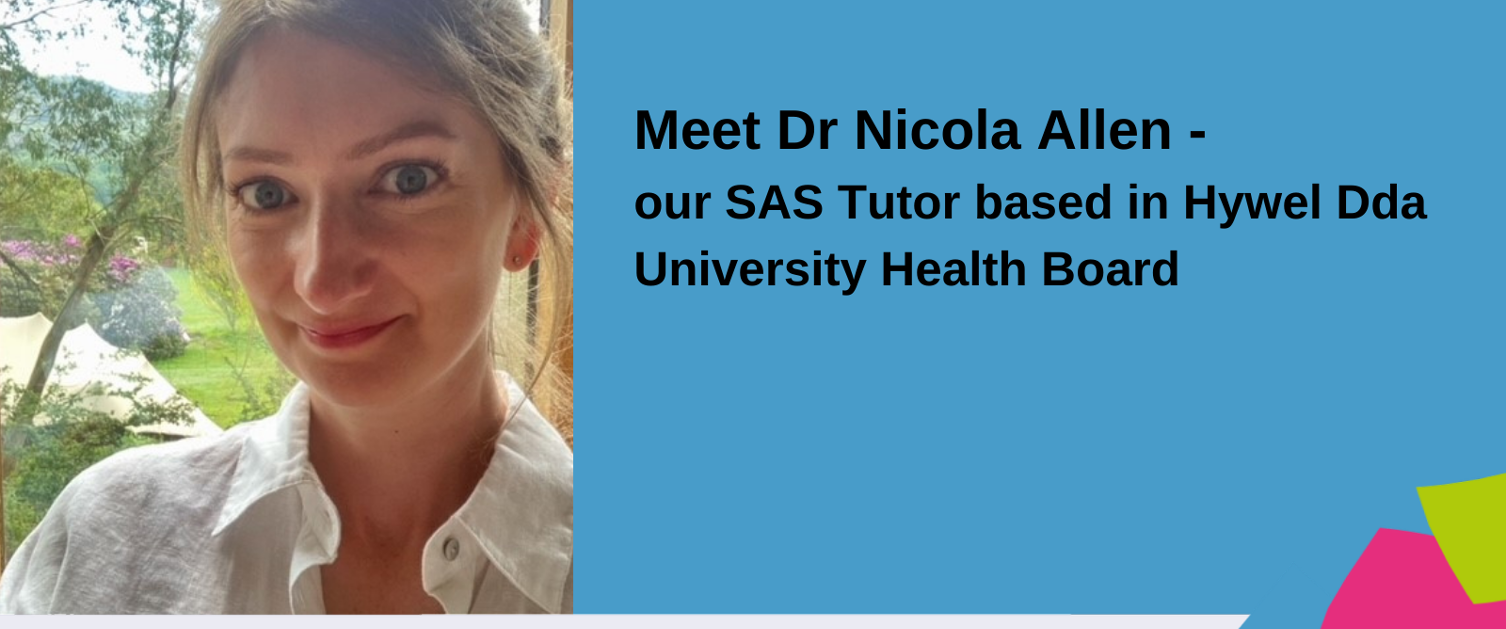 Our SAS (Specialist, Associate Specialist and Specialty) team provides leadership and facilitates the education, training and career progression for all SAS doctors and dentists in Wales. The team is supported by a network of SAS tutors based in each of the Health Boards across Wales, and the tutors help facilitate training and career progression for SAS doctors.
This month meet Dr Nicola Allen, our SAS Tutor based in Hywel Dda University Health Board. Nicola has been an SAS tutor for just over three years now and is here to help you.
Dr Nicola Allen is a Specialty Doctor in General Surgery, currently seconded to Urology, and also the SAS Tutor for Hywel Dda. Originally from Norfolk and moved to Hywel Dda in 2014 when Nicola qualified as a Foundation Year 1 doctor. Falling in love with Mid and West Wales she decided to stay and train in the area, moving Health Boards for one year before returning to Hywel Dda. Many years before this Nicola originally trained as a Mental Health Nurse. Nicola's interests include travelling, wildlife, history and photography.
Over the last two years as SAS Tutor, Nicola gradually increased the amount of Continuing Professional Development (CPD) opportunities for the SAS Doctors and Dentists within Hywel Dda. These consist of a mixture of external courses funded through HEIW to local in-house training and seminars with topics spanning from clinical updates to practical employment-related talks. In June 2022, with help from our Postgraduate Centre and all the speakers involved, she organised a Health Board wide SAS Study Day focussing on 'Leadership' and we were joined by SAS doctors and dentists from across Wales. This is something that is hoped to be a yearly event.
As an SAS Tutor, Nicola is also part of the Hywel Dda Steering Group with an aim to implement the SAS Charter as well as her own ideas as to how SAS doctors and dentists can be better developed throughout the Health Board and beyond. Nicola also represents the SAS cohort at the Hywel Dda Medicines Management Organisational Group (MMOG).
Nicola can be contacted on Nicola.Allen@wales.nhs.uk for further information or any guidance you may require as an SAS doctor or dentist in Wales.
There are resources and further information on our webpages: https://heiw.nhs.wales/education-and-training/sas-doctors/.