Dental nurse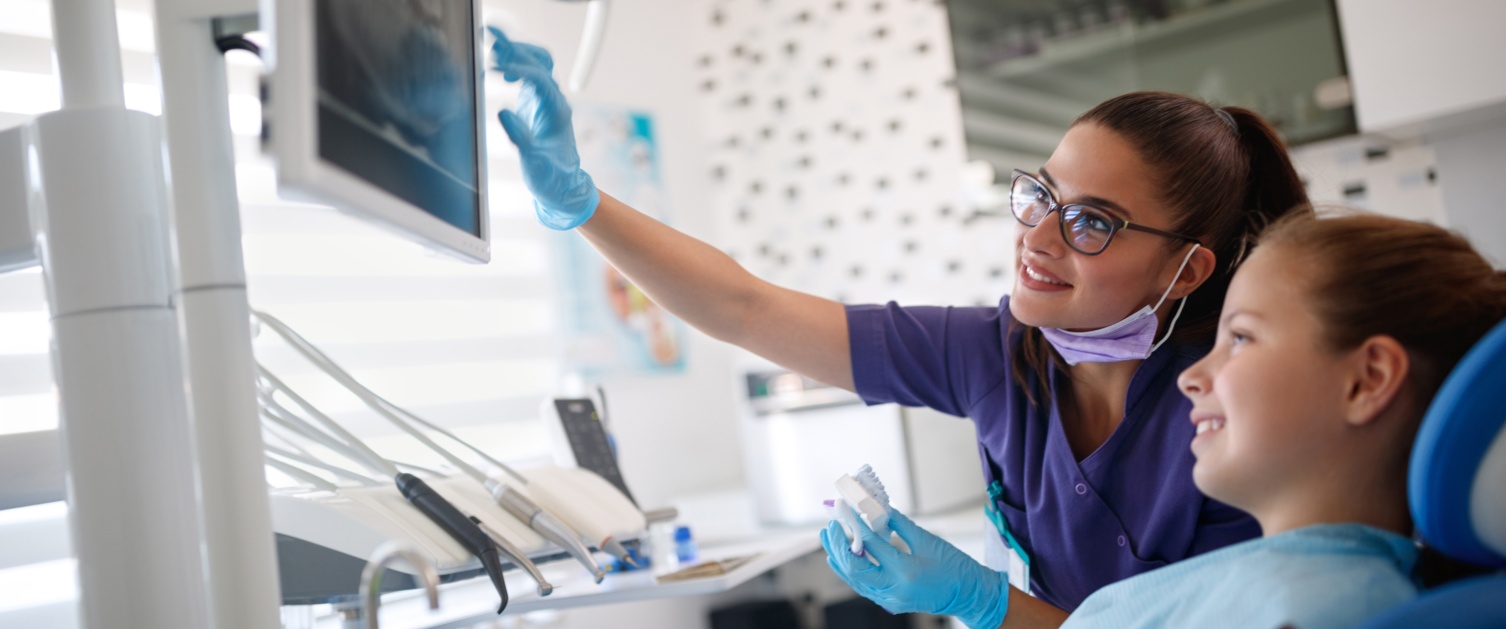 What is a dental nurse?
Dental nurses support dental professionals in all aspects of patient care.
This includes the individual responsibility for the preparation and organisation of a dental surgery, preparing instruments, equipment and mixing materials where clinical procedures will be undertaken, whilst also ensuring patients comfort throughout their visits.
Is dental nurse the right career for me?
To be a dental nurse you will need to have excellent communication skills, a caring nature, an ability to work with others and be highly organised. Dental Nurses need to be friendly and approachable, reliable, patient, calm and flexible to respond to unexpected situations as they arise.
What do dental nurses do?
The dental nurse will take notes from the dentists' dictation for personal records, assist the dental professional during the patient's treatment and after the patient has been treated, they will clean the surgery, sterilise all the dental instruments and prepare for the next patient. Dental Nurses provide chair side support to dental professionals across the full range of dental treatment provision. They play a key role in patient support and have responsibility for infection control and health and safety in the workplace.
What career progression opportunities are available for dental nurses?
Once qualified and registered with the General Dental Council, dental nurses may wish to complete further qualifications to enhance their Scope of Practice. These additional duties can be via National Examining Board for Dental Nurses (NEBDN) post registration qualifications of additional duties courses where dental nurses produce evidence of competence in specific tasks undertaken under the supervision of a registered dentist or Dental Care Professional.
How do I become a dental nurse?
There are a variety of routes to gain a dental nursing qualification:
Find employment (or a placement) and a course provider - The vast majority of qualified Dental Nurses will have come through this route. You will need to find employment (or a placement) as a trainee dental nurse in a dental practice. Once you have employment you can start to look for a training place with a course provider. In most cases your employer will be able to recommend a course provider as they may have used them before. Don't worry if the course does not start for a few months you can keep your employment as a trainee for up to two years.
Apply for a full-time course at a dental teaching hospital - Dental teaching hospitals provide all the training and clinical experience in one place, but full-time places are limited. Check that the teaching hospital you have selected is an accredited course provide and contact them regarding their application process.
Find a course provider who arranges placements for you - Most course providers prefer you to be in employment before you register with them for training. It is rare to find a course provider who will be able to arrange placement for you.
Entry Requirements
All dental nurse training courses are approved by the General Dental Council. Course requirements will vary from provider to provider, but a minimum 2 GCSEs (C grade or above) in English language and maths are preferable. A good command of the English language is required.
Full-time degree level courses may require A-levels or equivalent level 3 qualifications. Check our course finder for available courses and always check with individual course providers about their specific entry requirements.
A level 3 apprenticeship in dental nursing is an additional way to gain the required qualifications in dental nursing. For details of where to search for job and apprenticeship vacancies, see the 'Job market and vacancies' section below.
Training
The length of courses varies.
As part of your training you will be required to complete a portfolio of evidence of your competence to perform a range of clinical tasks. You will need the support of your employer to be able to complete this portfolio effectively. The course will consist of topics such as Dental Disease, Regional Anatomy, Dental Materials, Radiography as well as those related to each procedure you are likely to encounter in the workplace.
Training may be delivered in a variety of ways e.g. classroom based, blended learning or online but this will depend on the course provider you have chosen.
Once your portfolio of competence is completed to the required standard and the relevant examination passed you will be qualified and eligible to register with the General Dental Council.
Useful links: