Fair, Together, Healthy, Compassionate Culture
Health and social care services are in the process of changing, as set out in A Healthier Wales and the draft Workforce Strategy (which was created following feedback including Staff Surveys and widespread engagement). As health care colleagues, we have been working together to develop "how we do things".
We know that nothing is static. The way we have had to work together through our collective response to Covid-19 has led to rapid changes which, in turn, has presented significant opportunities to improve our working environment. Our work and workplaces will, and can never, be the same (we can't unknow and undo what we know now). This requires us to collaboratively develop a different set of expectations which support and challenge us as individuals, within groups/teams and as organisations. These expectations will culminate in a set of shared owned charter/promises/expectations/pledges.
Prior to the Covid 19 pandemic, we had planned to develop an NHS Wales wide approach to our culture, to help us all be clear about our expectations and rights (similar to the Staff Governance Framework in Scotland). Moving beyond the immediate response to Covid-19, we need to use this as an opportunity to shape how we do things which will help support and enhance:
Our leadership expectations and supporting people to develop

Developing our approach to reflection and feedback

Changing our approaches to workplace relationships and policies

Changing our focus and measures
---
What are fair, together, healthy and compassionate workplaces?
Whilst each of us will describe a healthy compassionate workplace slightly differently, Professor Michael West and the Kings Fund highlights that we all need three things:
Autonomy: to make our own decisions
Belonging: feeling part of something with the people around us
Competence: being able to do our jobs
What we need to do and what we can expect from each other in the workplace are: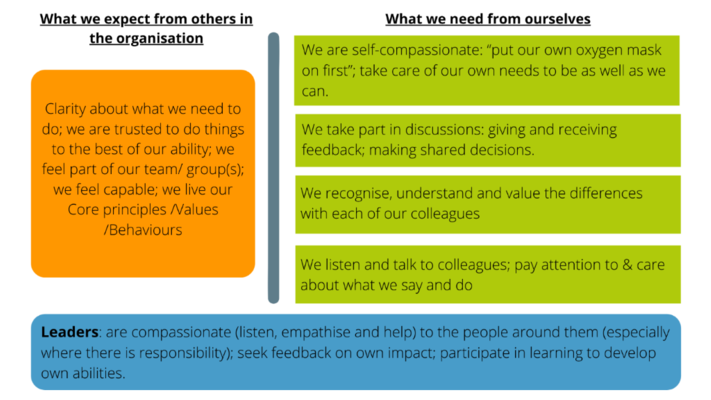 We are already seeing a change in our people policies including the updated approach to Managing Attendance at Work. During 2020-21, we will collectively agree the expectations and promises which will help us to update and improve all of our NHS Wales approaches (including policies).
We all have a role, but with ourselves in the middle.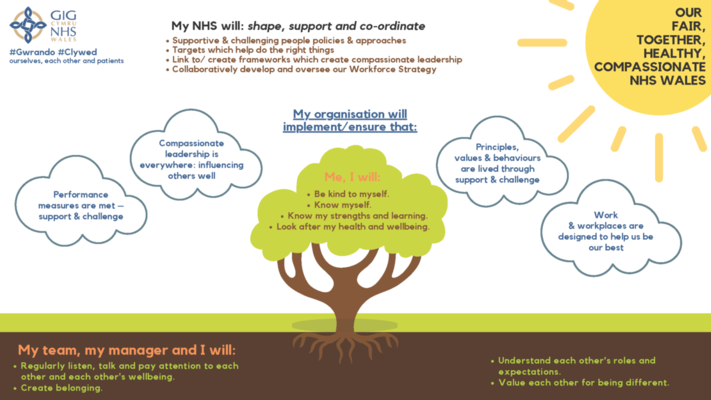 Putting a greater emphasis on listening (#Gwrando) and hearing (#Clywed) is an important first focus for us all as we develop Healthy Workplaces across NHS Wales. This includes listening/hearing and paying attention to ourselves, to the people we work with and the people we provide services for.
---
How we will know success
Overall, the approach aims to:
recognise individual differences/needs,

increase autonomy/trust,

build a clearer sense of belonging; and

develop appropriate individual and collective competence.
We will assign measures to each of these outcomes and regularly review them in order to monitor progression.
---
How we are doing/will do this in HEIW
Phase 1 May

Create clarity on the parameters for the approach: included/excluded; boundaries; timescales; core project team

Build support with colleagues; virtual workshops to get people involved in creating the approach;

Support other organisations to start the approach as appropriate

Phase 2 June

Set up feedback tool for widespread involvement

Plan the detail of the approach; produce engagement information; finalise key messages; draft overview of "what we know" [4 words: f

air, together, healthy, compassionate]

Phase 3 June-July

Launch prompt with groups/teams/across HEIW: share information widely

Virtual workshops (specific groups); virtual conferences/ events; our key questions: "do these look right" "What does this mean to you" "what do you need to help make these work for you?"

Phase 4 August

Pull information together

Check back with colleagues (test/pilot "content")

Create further engagement materials (e.g. videos)

Phase 5 From June

Use learning to support NHS Wales approach
---
How we are doing/will do this for NHS Wales
Phase 1 May

Create clarity on the parameters for the approach: included/excluded; boundaries; timescales; core project team (to include TU and Equality links)

Build support with colleagues; virtual workshops to get people involved in creating the approach;

Pilot details of the approach in HEIW and other appropriate organisations

Phase 2 June

Set up feedback tool for widespread involvement

Plan the detail of the approach; produce engagement information; finalise key messages; draft overview of "what we know" [4 words: healthy, compassionate, collective, fair]

Phase 3 July-Nov

Launch prompt with groups/teams/across: share information widely

Virtual workshops (specific groups); virtual conferences/ events; our key questions: "do these look right" "What does this mean to you" "what do you need to help make these work for you?"

Phase 4 Dec-Feb

Pull information together

Check back with colleagues (test/pilot "content")

Create further engagement materials (e.g. videos)

Phase 4 Mar 21 onwards

"Implement": review/update policies, strategies, supporting materials etc

Review dates set

Include Social Care Wales