Orbit360 our new doctors 360° feedback system is now live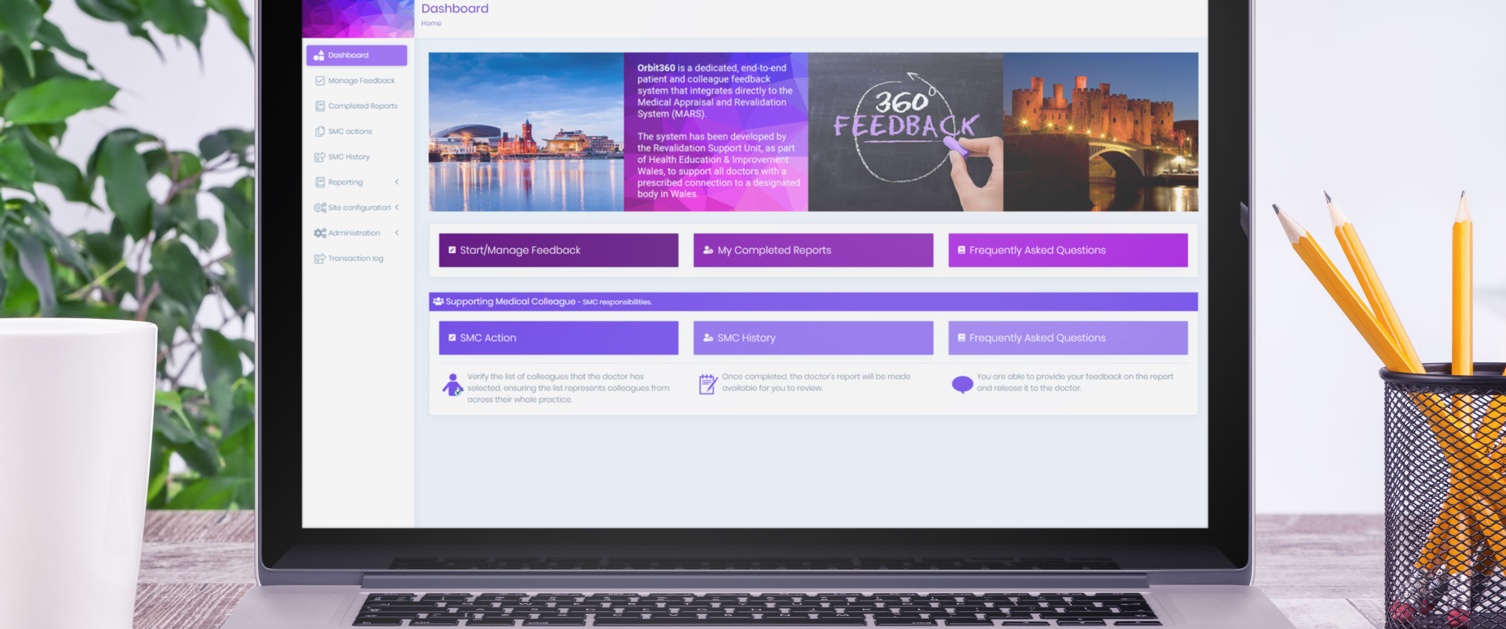 Calling all doctors in Wales…
HEIW's Revalidation Support Unit (RSU) and Digital team have now relaunched our Patient & Colleague 360° Feedback system, available to all doctors in Wales, aimed at meeting the requirements of revalidation.
The system provides a 360° feedback area for both doctors colleagues and patients to use, providing the doctor with valuable feedback enabling continual improvement in patient care. The online tool is unique to Wales and sits alongside the current Medical Appraisal Revalidation System (MARS). The integration of both on-line tools is planned for later this year.
Orbit360 officially launched back in March 2020 and this relaunch coincides with the recommencement of appraisal across Wales.
The system is fully bilingual – including feedback questionnaires and user guidance. We already have 600 plus users. If you are interested in utilising this software within another profession or have any queries, please contact the Revalidation Support Unit heiw.orbit360@wales.nhs.uk
Feedback we have received on Orbit 360 from our doctor end-users;
On the system
"very simple and well designed"
"The option for patients to complete feedback electronically was a huge help while completing virtual consultations".
"Lots of detailed guidance, the FAQs answered all my queries"
"Was easy and worked well - particularly scanning patient responses"
"It is a huge improvement on previous systems. Easy to use and hassle-free"
On the service desk
"excellent-knowledgeable and patient"
"extremely prompt and helpful advice"
Prof Push Mangat, our Medical Director at HEIW, said; "Orbit360™ is a landmark addition to Health Education and Improvement Wales' suite of bespoke, online resources for medical professionals in Wales. This sits alongside the Medical Appraisal Revalidation System (MARS) for all doctors who have a prescribed connection to an NHS designated body in Wales and will make a significant contribution to HEIW's leading role in developing and supporting the healthcare workforce in Wales. Despite the significant interruptions due to COVID-19, we already have over 600 users registered on the system and feedback overall has been very positive. We have had extremely few teething problems – almost unheard of with the launch of systems of this sort. I am really proud of this work by Rebecca Newton and her team within the Revalidation Support Unit alongside Jay Beavan and his digital team to achieve this feat."