New state of the art clinical practice suite opens for students at Singleton Hospital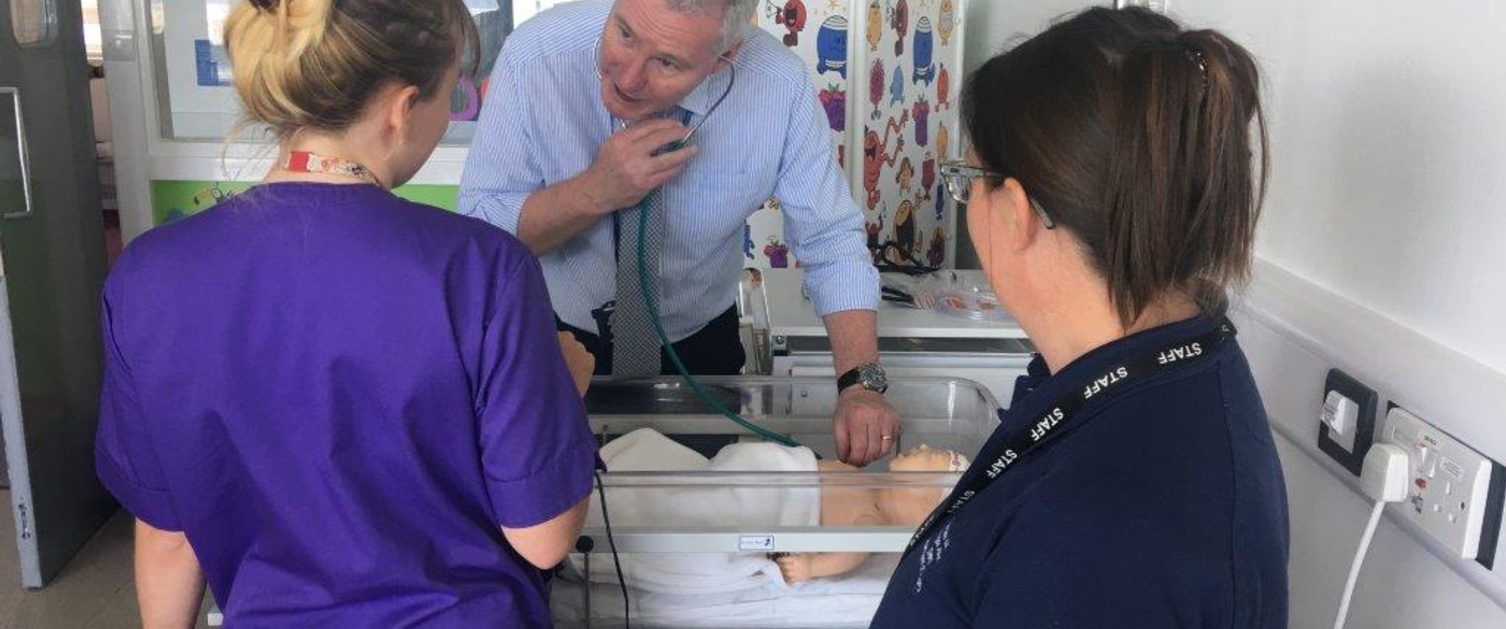 Stephen Griffiths pictured testing out the new equipment with nursing and midwifery team.
A brand new, state-of-the-art clinical practice suite has been opened by Swansea University at Singleton Hospital following investment from Health Education and Improvement Wales (HEIW).
This impressive facility has been designed to follow a patient's journey and includes areas such as ICU (Intensive Care Unit), A & E (Accident and Emergency), adult and paediatric wards. The space also includes a sensory room, a reminiscence room and a simulated patient's home. All of which have been equipped with up to date technology and include lifelike 'manikins' which have been designed to support outstanding simulated clinical training.
The centre will allow students to practice their clinical skills in a realistic environment before undertaking clinical placements at hospitals and in the community where they will use their skills with patients.
Named the Aneurin Bevan Clinical Practice Centre, the facility will be shared by the College of Human and Health Sciences and the Medical School.
Stephen Griffiths, Director of Nursing at HEIW, recently visited the centre and was treated to demonstrations of the equipment by nursing and midwifery students from the College of Human and Health Sciences. He was impressed by the realism of experience,
"The realistic training students receive at the centre will no doubt help to increase their knowledge and confidence when they are faced with real life situations".
"It was really great to see the new facilities, the students and of course the staff. The excitement and enthusiasm was palpable and having this new facility in the hospital is going to be a real asset to the University, the local health community and of course to student learning".
Professor Jayne Cutter, Head of the Department of Nursing in the College said at the visit,
"This is a truly magnificent facility and will provide our students with fantastic learning opportunities. The centre is unique, not only in terms of the quality of the equipment and the range of clinical experiences that can be replicated, but in its location.
"It will offer our students the chance to learn and practice complex clinical skills in a non-threatening, realistic clinical environment, giving them the knowledge and confidence to undertake the same activities with patients during their clinical placements".
Richard Evans, Executive Medical Director at Swansea Bay University Health Board who run Singleton Hospital, said,
"We are delighted to have supported HEIW and Swansea University in developing this clinical practice suite in Singleton Hospital.
"Giving students the opportunity to put their training into practice in a lifelike environment will undoubtedly improve their clinical skills.
"This in turn will lead to a higher standard of care for patients – something we all strive to achieve."
ENDS
Notes to Editor:
Health Education and Improvement Wales (HEIW) was established on 1 October 2018. It is a special health authority within NHS Wales, created by bringing together three key organisations for health: the Wales Deanery; NHS Wales's Workforce Education and Development Services (WEDS); and the Wales Centre for Pharmacy Professional Education (WCPPE). 
Sitting alongside health boards and trusts, HEIW has a leading role in the education, training, development, and shaping of the healthcare workforce in Wales. Its key functions include education and training, workforce development and modernisation, leadership development, strategic workforce planning, workforce intelligence, careers, and widening access.