New Lead Associate Dean for the Conference of Postgraduate Medical Deans (COPMeD)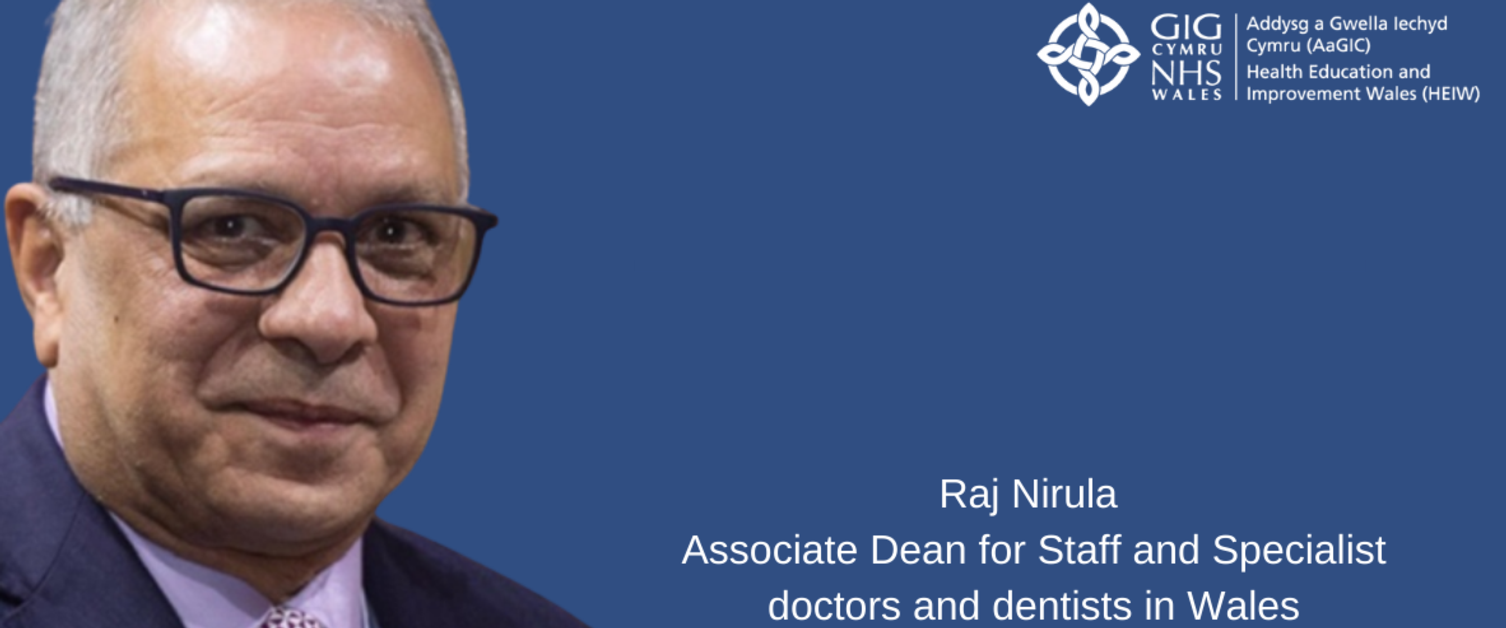 We are extremely pleased to announce that Raj Nirula, has been appointed as the Lead Associate Dean for SAS doctors in the UK by (COPMeD). Raj is the Associate Dean for Staff and Associate Specialist (SAS) doctors and dentists in Health Education and Improvement Wales.
Raj will continue in his role with HEIW whilst influencing the strategic plans to help and support the SAS doctors network in Wales, and the UK, in his new role with the COPMeD SAS group.
SAS doctors are a diverse group with a wide range of skills, experience and specialties and are an essential part of the NHS medical workforce. COPMeD is an advisory group and forum providing a platform for doctors in the UK to meet and share best practice. The main objectives of the SAS group, a subgroup of COPMeD, are the promotion of a consistent approach towards the professional development of SAS doctors, and support and advice regarding educational needs or further training that is beyond speciality specific CPD. This is with the ultimate aim of providing a safe, stable, and experienced workforce of SAS doctors.
Raj Nirula said; "My plan is to ensure that the professional development needs of SAS doctors' in UK are met with opportunities for them to progress and thrive throughout their career and those planning to go through the CESR pathway have support for the prerequisites required. Every SAS doctor is to be encouraged to take clinical, educational supervisor and appraiser's roles with full implementation of SAS charter".
Tom Lawson, Postgraduate Dean said; "We are delighted that Raj has achieved this significant appointment to join the COPMeD team. Raj is dedicated to improving the working lives of SAS doctors in Wales, and will now be able to influence the agenda on a UK wide basis. Raj was instrumental in developing the first SAS Charter working directly with Welsh Government, which ensures that SAS doctors and dentists are appropriately supported in the workplace. This new position will allow Raj to further build on this work".
Ian Collings, our New Director of Medic Professional Support and Development, said: "One of the main responsibilities of my new role is to ensure that SAS doctors in Wales have access to support and development opportunities and we will be exploring options to deliver this over the next two years. Having Raj in this role will enable us to understand the UK landscape related to SAS doctors support and development and identify areas of best practice we could potentially implement in Wales".