Podiatrist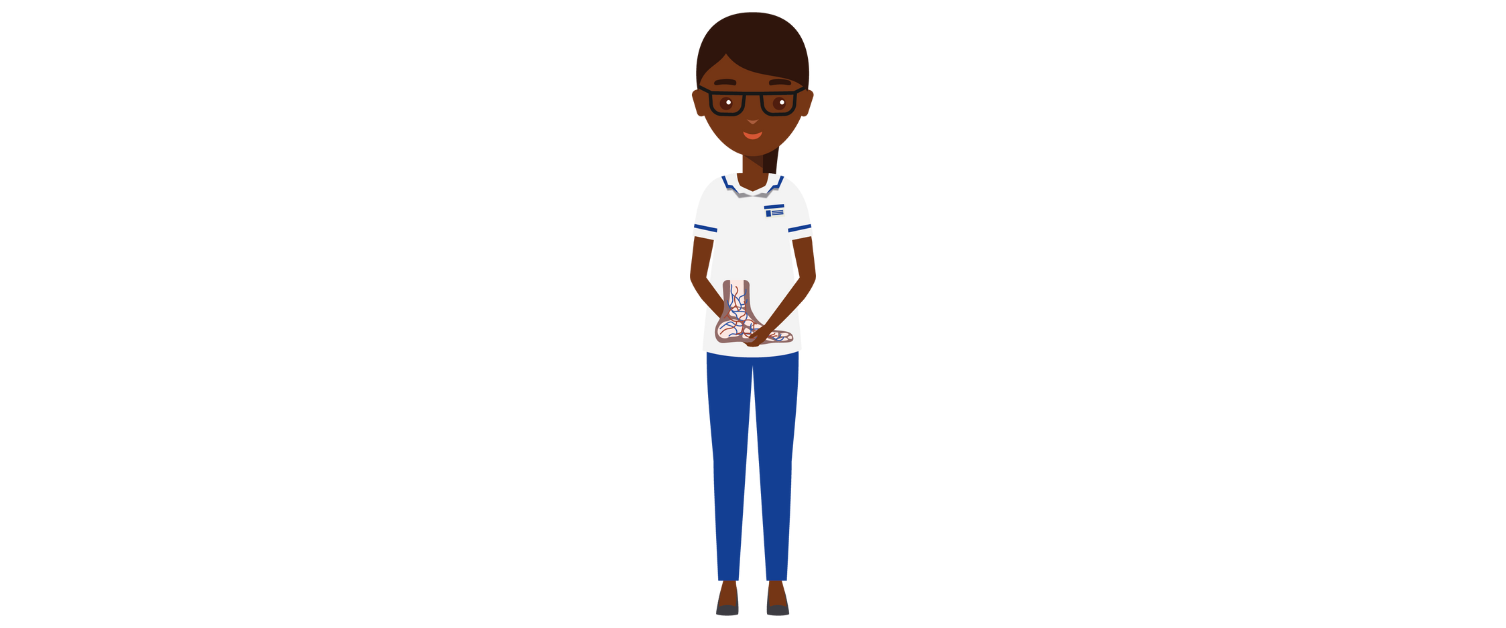 What is Podiatry?
Podiatry is a medical and podiatric needs led service for patients of all ages.
Podiatrists primarily treat individuals who have an underlying illness or condition that put their legs and feet at increased risk of injury, compromised tissue viability and/or pain and loss of function. This can include Diabetes, Rheumatoid Arthritis, Cerebral Palsy, Peripheral Arterial Disease, and Peripheral Nerve Damage.
Therapeutic interventions are directed to reduce the incidence of amputation within these client groups. Podiatric intervention aim to improve the mobility, independence and quality of life for patients by treating any health care need associated with the foot and ankle.
Is Podiatry the right career for me?
A career in podiatry can provide a great variety of options, working with people of all ages as an expert in foot and ankle health often within a multidisciplinary team. If you enjoy problem solving, helping others and have an interest in anatomy then Podiatry could be the career for you.
What do Podiatrists do?
Podiatrists are autonomous healthcare professionals responsible for the assessment, diagnosis and treatment of disorders of the foot and lower limb. This may be achieved through preventative, biomechanical, pharmacological and surgical interventions.
A podiatrist may work alone or as part of a multidisciplinary healthcare team.
Where do Podiatrists work?
Podiatrists work in number of settings, such as:
Hospitals
Community Clinics
GP practices
Patient's homes
What hours do Podiatrists work?
Standard working hours are 37.5 hours per week.
How much do Podiatrists earn?
In the NHS, an entry level qualified podiatry position would start at Band 5; please see our Pay and Benefits section for more information.
What career progression opportunities are available for Podiatrists?
As a podiatrist progresses in their career and their clinical skills develop, many choose to specialise in an area of clinical practice such as musculo- skeletal services, diabetes, and tissue viability to develop their career.
Progression could also include management within the NHS and being responsible for teams of staff, budget management and service provision. Other options include teaching or research.
Some podiatrists may choose to undertake further training to become podiatric surgeons. Others may decide to work privately on their own or with other professionals.
How do I become a Podiatrist?
| | |
| --- | --- |
| Do I need a degree? | Yes, if you want to work in the NHS you will need to complete a Health and Care Professions Council (HCPC) approved course. |
| Where can I train in Wales? | Cardiff Metropolitan University. |
| Is there funding available? | Yes, for further information about available funding and eligibility please visit Student Awards Services. |
| Are there postgraduate opportunities? | Yes - the HCPC website provides details of approved postgraduate programmes in the UK. |
| Do I need previous experience to apply for the course? | No. |
| How do I get experience? | To find out about work experience and volunteering opportunities in NHS Wales visit our Work section. |
| How do I apply for a job? | All vacancies for NHS Wales are advertised on NHS Jobs. Visit our Work section for more information. |
Useful links: