QISTmas 2022 - Abstract Submission Details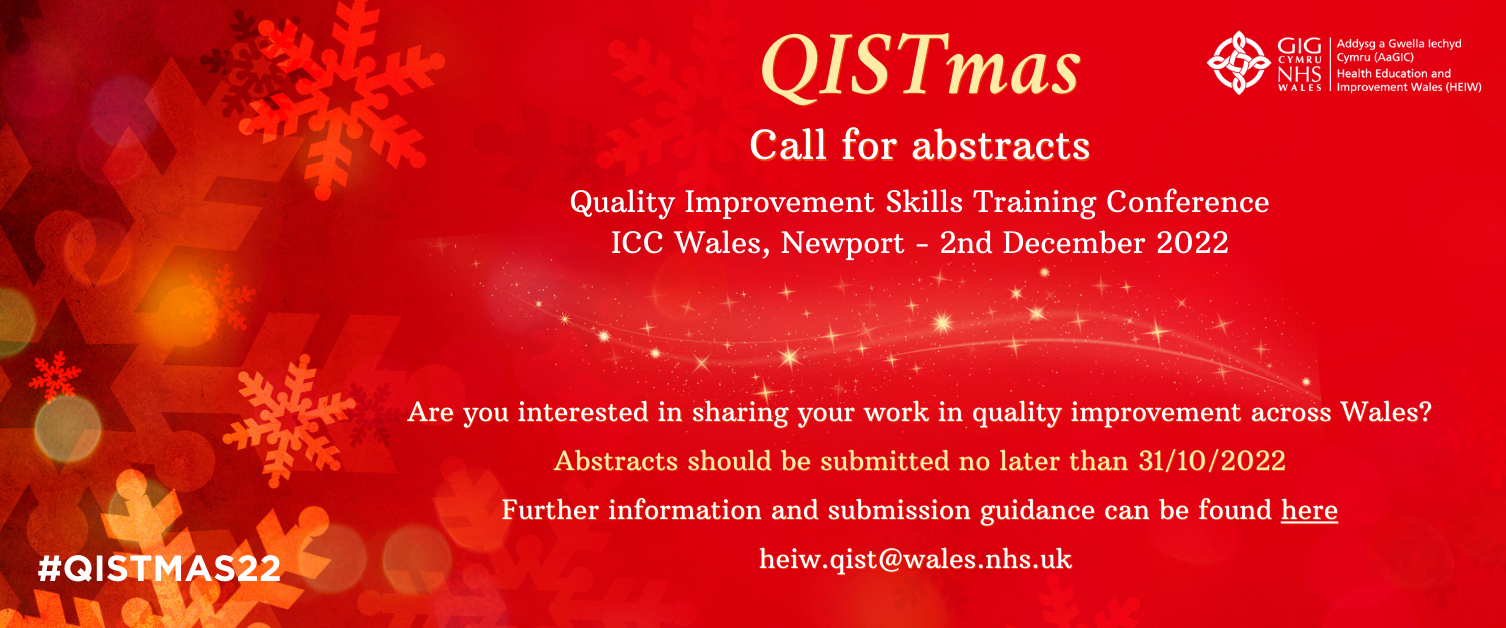 In recognition of the Quality Improvement projects which are being undertaken across Wales, Health Education and Improvement Wales (HEIW) is calling for abstract submissons ahead of QISTmas 2022.
These are an essential part of the conference and will be prominently displayed at the venue where they will attract interest from delegates. There will also be timetabled sessions for poster presentations.
Submission Process:
You may submit your abstract via email to HEIW.QIST@wales.nhs.uk. Please ensure you include all requested information, formatted into sections with a word count of up to 500, exclusive of title, authors and affiliations. You will receive a confirmation of receipt.
Submission should contain:
What are you trying to accomplish? Give a brief outline of the problem and the aim of the project.
How will you know that a change is an improvement? What measures are being used to assess any improvement? What was your baseline?
What changes can you make that will result in an improvement? What was the strategy for change and how did you test this? Describe any Plan-Do-Study-Act (PDSA) cycles.
What are the effects of the changes you have made? Include any graphs or run charts showing the effects.
Lessons learnt: What could be done differently next time? Do you have any messages for others, based on the experiences described?
Submission Deadlines:
Abstracts should be submitted no later than 31st October 2022, for review by the Conference Abstract Committee.
Notification:
You will be notified of the Committee's decision on or before 16th November 2022.
Formal Poster Session:
Friday, 2 December 2022. Poster presenter must register for and attend the conference. The conference programme will include poster sessions where delegates will have the opportunity to discuss your projects with you.
Poster Set-up:
Friday, 2 December 2022. Time: TBC. Poster board number will be included in Poster Abstract section of the Conference Programme booklet. Numbers will not be distributed prior to the meeting.
Poster Removal:
Posters should be removed at the conclusion of the formal Poster Session.