Wales leads the way to improve teamwork in dentistry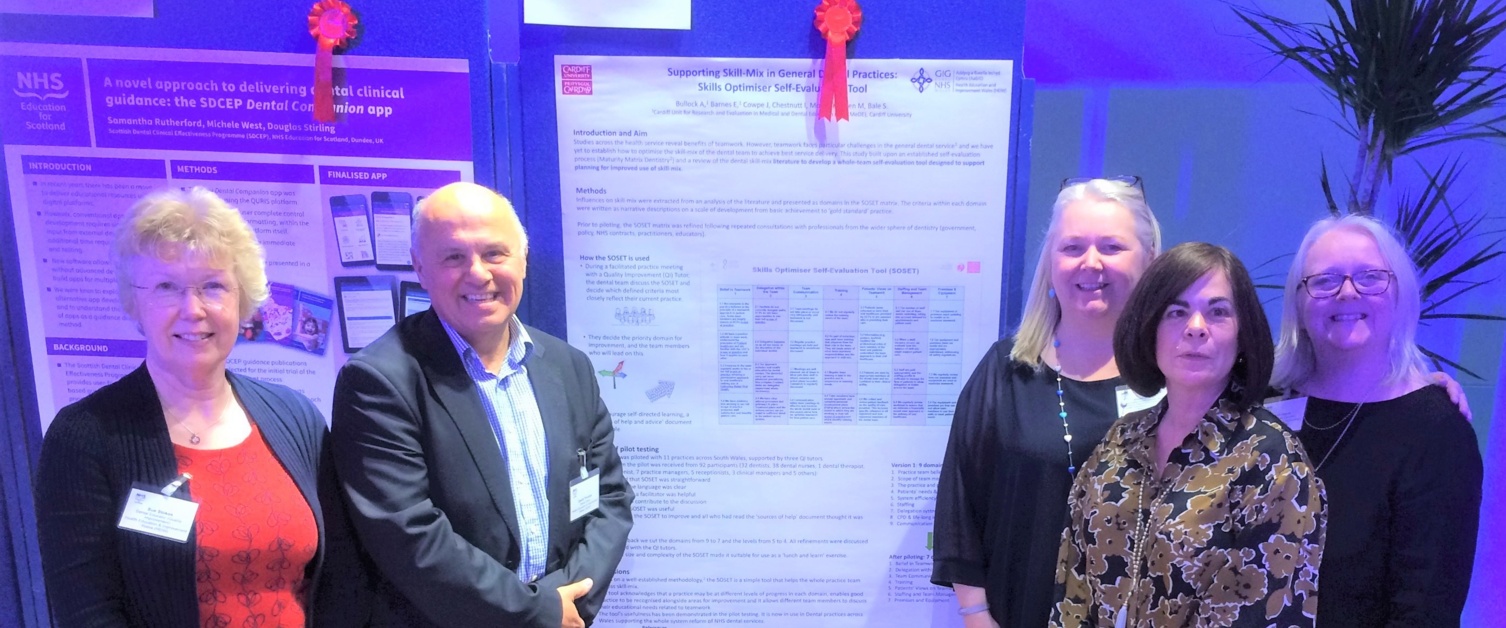 [The HEIW dental team with their winning poster at the Dental Education Conference. From left to right: Sue Stokes, Quality Improvement Educator, Dr David Thomas, Postgraduate Dental Dean, Kirstie Moons, Associate Director for Dental Team Workforce Planning and Development, Kathryn Marshall, Quality Improvement Educator, and Kath Hayes, DCP Educator.]
An innovative training tool developed in Wales and designed to help dental practices maximise teamwork has gained UK-wide recognition.
The Skills Optimiser Self-Evaluation Tool (SOSET), piloted in 2018 by Health Education and Improvement Wales (HEIW) in collaboration with the Cardiff Unit for Research and Evaluation in Medical and Dental Education (CUREMeDE), took home a national award at NHS Education for Scotland's Dental Education Conference.
SOSET encourages dental teams, including dentists and dental care professionals (DCPs), to put teamwork at the forefront of their approach to delivering effective oral healthcare.
Initially piloted in 11 dental practices across South Wales, the success of the tool has meant that it is now in use in 28 practices across Wales with this figure set to rise as awareness of the tool increases.
Kirstie Moons, Associate Director for Dental Team Workforce Planning and Development at HEIW, said: "I'm delighted that the work put into this project has culminated in recognition at the Dental Education Conference in Scotland.
"SOSET is innovative and unique, reinforcing the crucial use of the whole dental team to deliver effective patient care. It is important that every team member is utilised appropriately and their skills are maximised.
"The tool ensures dental practices are reflecting and planning to achieve this in a way that suits them and their patients."
At the conference, SOSET won the 'Dental careers – structure and support' category following a presentation on its inception, development and impact so far.
An impressive 93% of those who took part in the pilot, including dentists, dental nurses, receptionists and others, said SOSET was useful.
It is widely accepted that dental practices perform more effectively when everyone works as a team and feels able to discuss issues constructively. SOSET allows everyone in the practice to think about their role in providing high-quality, patient-centred healthcare.
Research suggests that as much as 73% of treatment in general dental practices could be carried out by DCPs – dental nurses, hygienists, therapists, and technicians – freeing up dentists' time to provide advanced care to patients with more complex needs.
To read more about how dental practices engage with the tool, hear from Dr Parul Sood who has seen the difference engaging with SOSET has made to her dental practice in Aberdare.
ENDS
Notes to Editor: