TUC's Dying to Work NHS National Roadshow comes to HEIW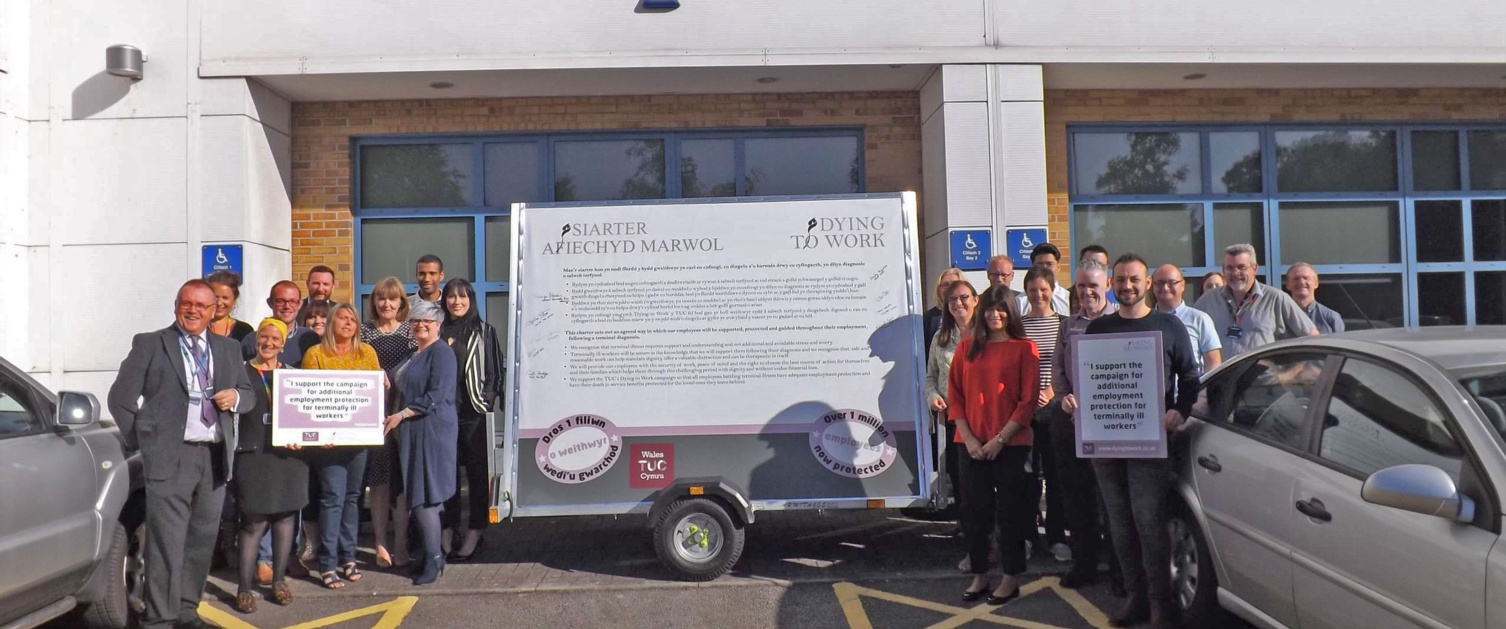 TUC Dying to Work Charter protects rights at work for those facing a terminal illness
Campaign began in 2016 following Derbyshire sales manager losing her job after cancer diagnosis
Dying to Work NHS roadshow touring the UK visiting NHS employers committed to the Charter.
HEIW have welcomed the TUC Dying to Work NHS national roadshow and added its name to the Charter aimed at helping employees who become terminally ill at work.
We, along with NHS Wales Shared Services Partnership (NWSSP), NHS Wales Informatics Service have all signed the charter offering additional protections to thousands of employees.
The Dying to Work campaign is seeking greater security for terminally ill workers where they cannot be dismissed as a result of their condition. The campaign was taken forward by the TUC following the case of Jacci Woodcook, an area sales manager from Derbyshire who was forced out of her job after being diagnosed with terminal breast cancer.
The TUC is asking employers to sign up to its charter to stop cases like Jacci's happening in the future. The Dying to Work Charter now covers over a million workers including staff at well-known employers such as Rolls Royce, Royal Mail and Lloyds Bank.
We are one of the first three NHS employers in Wales to sign up to the charter.
Tanya Palmer, UNISON Cymru Wales regional secretary said:
"By signing up to the Dying to Work charter, three NHS Wales employers have committed to ensuring that any employee suffering a terminal illness will be supported and empowered to make decisions about their working life without fear of repercussions or loss of income.
"It is impossible to predict how anyone would react in such a situation - some workers may choose to remain at work for as long as they can, others may wish to spend their time with loved ones.
"Whatever a person's choice may be, having the support of their employer is crucial and we are pleased that NHS Wales Shared Services Partnership, NHS Wales Informatics Services and Health Education and Improvement Wales recognise this."
Wales TUC's Dying to Work Lead Gareth Hathway said:
"Your job should be the least of your worries when you get a terminal diagnosis.
"Our NHS is there for us when we need it, and thanks to NHS employers and unions working together thousands of NHS employees will be supported when they need it most.
"Employers are leading the way in Wales and I hope to see more Health organisations sign soon."
Alex Howells, CEO of HEIW said: "I am pleased that HEIW is one of the first Health organisations to sign the Dying to Work Charter in Wales which will offer protection to staff with terminal illnesses."
A list of Charter signatories can be found here: https://www.dyingtowork.co.uk/whos-signed/