"This will be nothing like the rest of my dentistry career": Being a dental trainee during the Covid-19 pandemic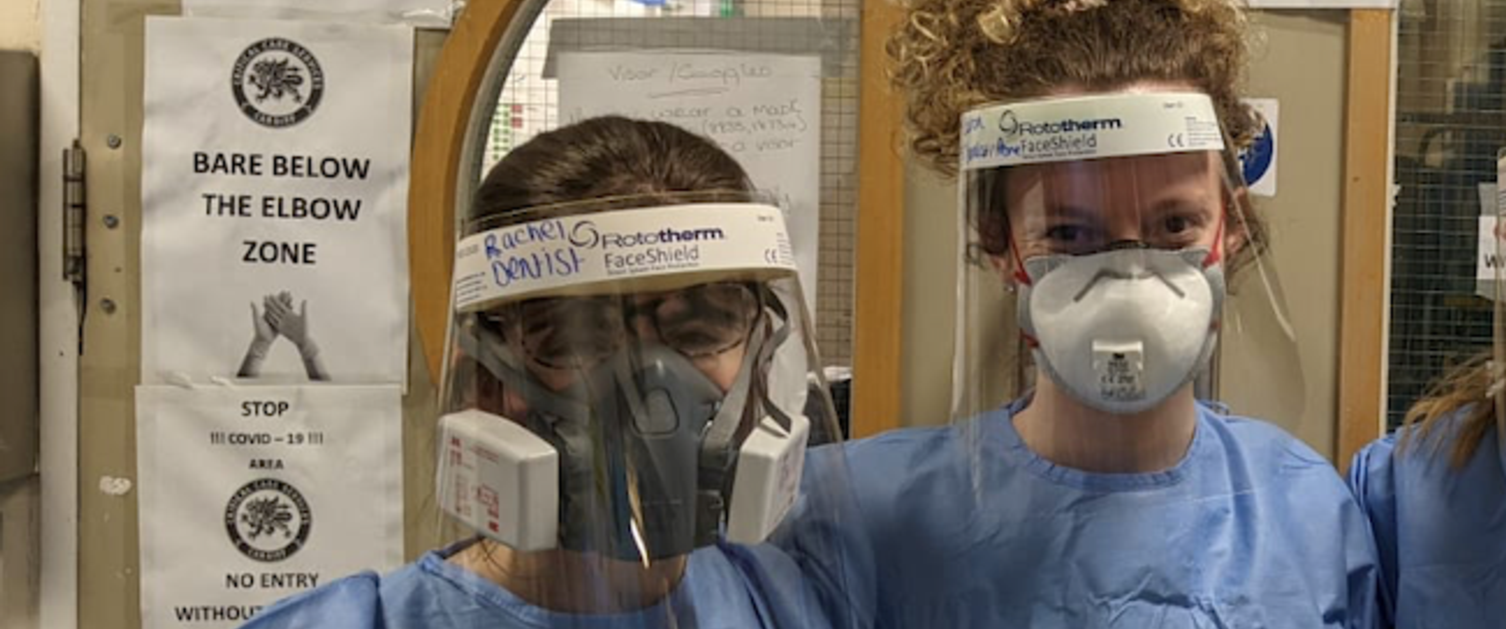 [Pictured above: Rachel Botrugno (left) and Caron Pari (right)]
Like all other healthcare services, dentistry has had to adapt drastically during the Covid-19 pandemic and dental trainees in Wales have experienced a training programme like no other cohort.

Dental services have seen many different stages of Covid-19 regulations from initially offering telephone triage and emergency treatment only to patients at the beginning of lockdown to the cautious re-opening of some face to face care.

During the peak of the second wave of the pandemic in January 2021, a number of Dental Core Trainees (DCTs) were redeployed to support multidisciplinary teams caring for hospitalised Covid-19 patients.

Three DCTs; Rachel Botrugno, Caron Pari and Christina Williams share their experiences of being redeployed to the frontline along with the challenges, and silver linings, they've witnessed in dentistry over the last year.

Supporting patients on the front line

Rachel Botrugno, said: "In January, myself and my fellow DCT colleagues were redeployed to the University Hospital of Wales Intensive Care Unit (ICU). We attended promptly to the ward on day one, with our fitted respirators ready to do what we could to help with the second wave of the Covid-19 pandemic.

"Our main role was to prone selected patients which took place at set times in the morning and the evening. We also helped with patient oral hygiene, personal hygiene and assistance in changing of intubation tube straps in between proning times.
"I found my colleagues and I picked up the step by step process of proning patients quickly, and at times were able to direct and guide other members of the team in the proning sequence who were less experienced."
Christina Williams (pictured right) shares her first impression of the ward: "On our first day it was immediately clear how stretched and tired many of the staff in the department were with multiple patients to each ICU nurse. The ward itself was not at all how I had imagined - the sheer scale of the ICU they had created is a testimony to the hospital staff, their teamwork and capacity to adapt."
The challenges of working in dentistry during the pandemic

For Caron Pari, one of the biggest challenges of the pandemic came in March 2020 when restrictions were first introduced: "The start of the pandemic was one of the hardest times as we couldn't do anything other than speak to patients on the phone.

"In some cases, when patients were in pain and there wasn't much we could do apart from offering advice over the phone, it was difficult to have that conversation, telling someone that you can't help them in the way you usually would."

Caron goes on to describe the challenges she then faced working in an ICU for the first time: "ICU was a totally different environment and one that I'd never been to before. It was a shock to see patients as acutely unwell as they are in ICU. Everyone's in masks and you can see how hard the nurses and the whole team are trying to make it as normal as possible in very strange times, but it's a sad situation, especially for the patients' families as they can't come and see their loved ones."

Another ongoing challenge that healthcare workers have faced during the pandemic is Personal Protective Equipment (PPE), Rachel Botrugno explains: "Enhanced PPE has great importance in the pandemic, however it can make it difficult to do lengthy procedures. I feel this particularly applies to young dentists who are developing their skills and can take longer to complete procedures such as root canal treatment.

"When worn for long periods of time, the respirator masks can cause pressure on the face from the seal of the mask and tightness around the head from the head strap. Also, the warmth of wearing a full length surgical gown can on occasions make it difficult to focus for long periods of time."

Finding the positives and lessons learnt for the future

For Caron, being redeployed to the hospital has prepared her for her next training rotation in maxillofacial surgery: "I'm about to start six months training in maxillofacial which is more of a hospital type role, so I do feel that my experience in ICU has prepared me a little bit for that as I'm more used to the hospital environment than I was."
Christina Williams believes her experience in ICU was overall a positive one largely thanks to the incredible staff working in the department: "They were all very supportive and welcoming. We were made to feel part of a large team unit and any help we offered, however small, was met with huge gratitude. The resilience demonstrated by the staff when dealing with the most challenging of circumstances is something I'll take with me going forward.
"My experience in ICU also demonstrated the wider role dental professionals can play. We have a number of transferable skills and are used to working in teams."

Rachel Botrugno (pictured left) agrees: "I have become more aware of the array of transferable skills utilised within the ICU environment which I gained from my undergraduate and postgraduate training within dentistry. These include teamwork, communication, empathy, anatomy of the head, neck, mouth and throat, as well as our knowledge of PPE donning and doffing, infection control and hand hygiene.
"I have also gained a huge respect and admiration for nurses and healthcare assistants that work tirelessly for the patients under their care within ICU. We were constantly thanked by individuals in the department for giving up time in our training programme to be redeployed to the ward.
"I appreciate my time in ICU will be nothing like the rest of my dentistry career, however I am pleased that myself and my colleagues stepped up to the challenge at a time when it was greatly needed."