Supporting patient care on the front line during the pandemic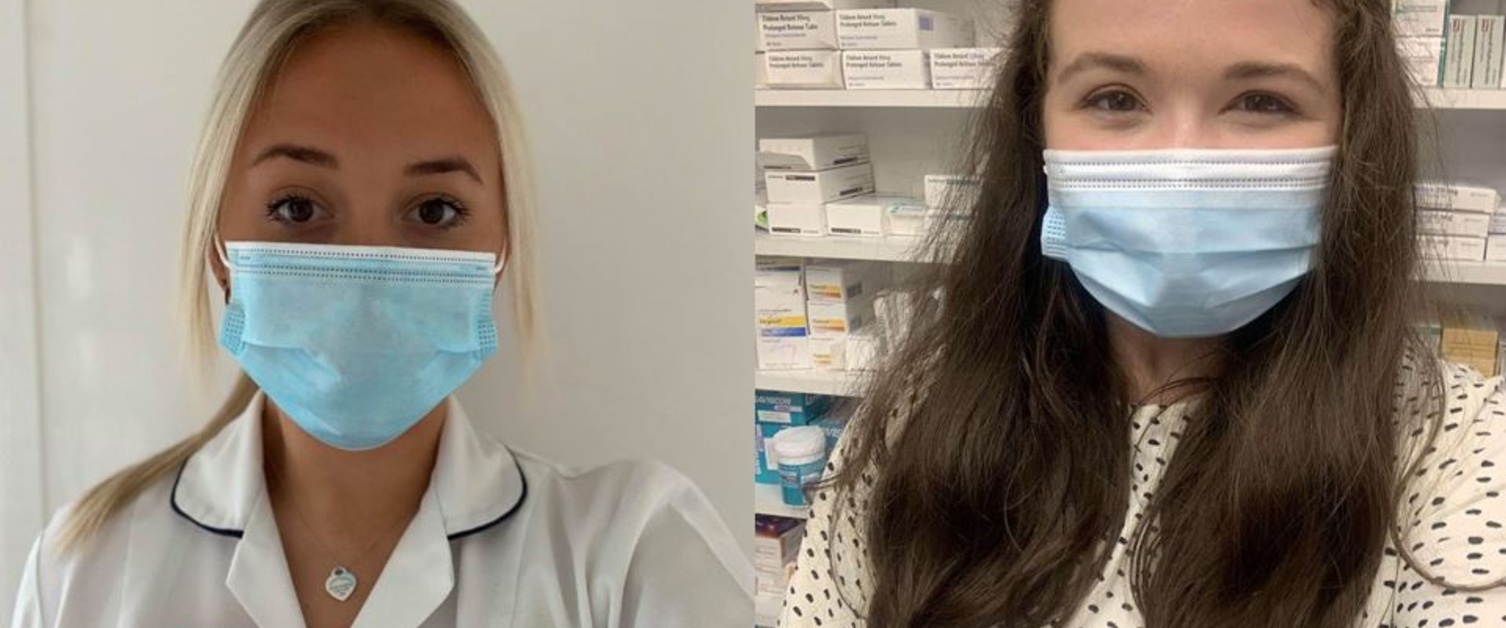 Two Cardiff University MPharm students from Wales, who supported the NHS during the coronavirus pandemic, have shared their workplace stories of working during Covid.
MPharm students follow a four year programme before entering one year pre-registration training and then following passing final registration assessments are eligible to register as qualified pharmacists.
Holly Breeze-Jones and Rebecca Penney are both in their third year of training and started to work in local pharmacies around the time that lockdown started. The demand on pharmacy services increased dramatically at that time and both are proud to have been part of a team that made a difference in their communities.
Supporting patient care on the front line during the pandemic: Reflections from pharmacy students at Cardiff University
As third year pharmacy students, we have been proud to stand alongside the pharmacy profession and to support patient care during a time of unprecedented challenge. Here we share our experience and insight into dealing with the pressures of the COVID19 pandemic and to highlight the importance of putting education and training into practice.
Positives of working through a pandemic
One thing that has really stuck out for us during these hard and unprecedented times is the level of patience and understanding shown by the vast majority of the public, which pharmacy teams have hugely appreciated. With a massive increase in script volume, prescriptions can take up to a week to dispense rather than the usual 48-hour rule of thumb, which understandably could cause distress for patients.
It has filled us with pride to hear patients taking the time to thank the pharmacy teams for their hard work and highlighting that pharmacy staff are undoubtedly key workers. Additionally, the teamwork shown between members of staff has been phenomenal, which has made us feel immensely proud to work in community pharmacies. With staff members being left no option but to shield for their own safety, or the safety of their family, staff levels have been reduced at the busiest time ever faced.
Staff have been working extra hours and days to ensure that patient centered care is met to the highest standards, as well as being there to support each other in such a stressful and demanding environment. These positives have allowed us to reflect on our experiences and taught us invaluable life lessons that we will carry with us as we develop into the next generation of pharmacists.
Challenges faced whilst working during a pandemic
Doctors surgeries reduced face-to-face contact with the general public whilst visitors to community pharmacy greatly increased, with many people requesting 2-3 months' worth of their medication. Stock was regularly depleted with high-demand regularly out of stock, phone lines saturated and queues never-ending. It was touching to see how patients were finally seeing value of high street access to healthcare services, particularly with many using the common ailment service as it was easier to see a pharmacist than a doctor.
But at the same time, it was stressful. We were managing an increased workload, and everything was taking longer than usual due to the challenges faced. But we were also desperate/adamant to provide the best care possible. It felt like we were working under pressure, from both ourselves and patients, and fueled by adrenaline.
Patients were understandably very scared, and we did our best to comfort them. But we also had the fear of catching COVID ourselves and bringing it home to family members who were vulnerable or also front line workers, especially as it took a while for PPE to become available for pharmacies. However, working through these difficulties has shown us that we're capable of a lot more than we thought and made us more prepared for the future.
Putting teaching into practice - how our studies at university have helped.
As future pharmacists, we are taught to uphold the 9 standards for pharmacy professionals, with the core standard being person centered care. During this pandemic we have been able to really see this being put into practice every single day with pharmacists being placed in new and challenging situations in which they always try to resolve issues with the best interest of the patient at heart.
Another significant and important part of our training is communication. We have never felt so grateful for the masterclasses and workshops we've had at Cardiff University that prepared us so well. For example, with ourselves and patients wearing facemasks for PPE we have had to rely on non-verbal communication and body language to pick up on patient's reactions and needs. Just simply knowing to ask leading questions to further understand their worry, showing empathy and really responding to their concerns has meant we can help patients with more than just providing them with medication.
New perspectives
It's been a crazy few months, with many challenges faced, problems solved, and lessons learnt, and we, like many other pharmacy students across the country helping on the front line find ourselves more resilient, strong and adaptable as a result of our experiences.
---
About the authors
Holly Breeze-Jones
Holly is a third-year pharmacy student at Cardiff University. Having worked at her local independent pharmacy in Penclawdd in Swansea for the past 4 years, Holly was committed to return to work at this pharmacy after leaving university in mid-March.
Holly's experience working through the pandemic has been stressful and hard at times, however it has taught her so much and made her realise how important teamwork and communication really is. While Holly felt nervous returning to work in such unprecedented circumstances, and had upcoming third year exams to think about, she felt proud to be returning to work to help out such a motivated and supportive team who needed the extra help due to a huge increase in demand.
Rebecca Penney
As a third year pharmacy student at Cardiff University, Rebecca started working in Neath Pharmacy as soon as campus teaching stopped at university, just before the lockdown started. Rebecca was aware that pharmacy teams were facing a huge increase in workload and she felt compelled to help during the pandemic and contribute on the frontline, using her experience from both working in the pharmacy previously and knowledge gained from her studies.
Rebecca felt really good to be able to help out in this way, committing to 2-3 days per week initially while also preparing for final online exams Rebecca identified that working during the pandemic had unique challenges; it was stressful, with pharmacies being pushed to limits like never before. But seeing everyone in the pharmacy pulling together proved how much teamwork can make a difference and she recounts it was amazing to be a part of that.