My internship experience by Joseph Droogan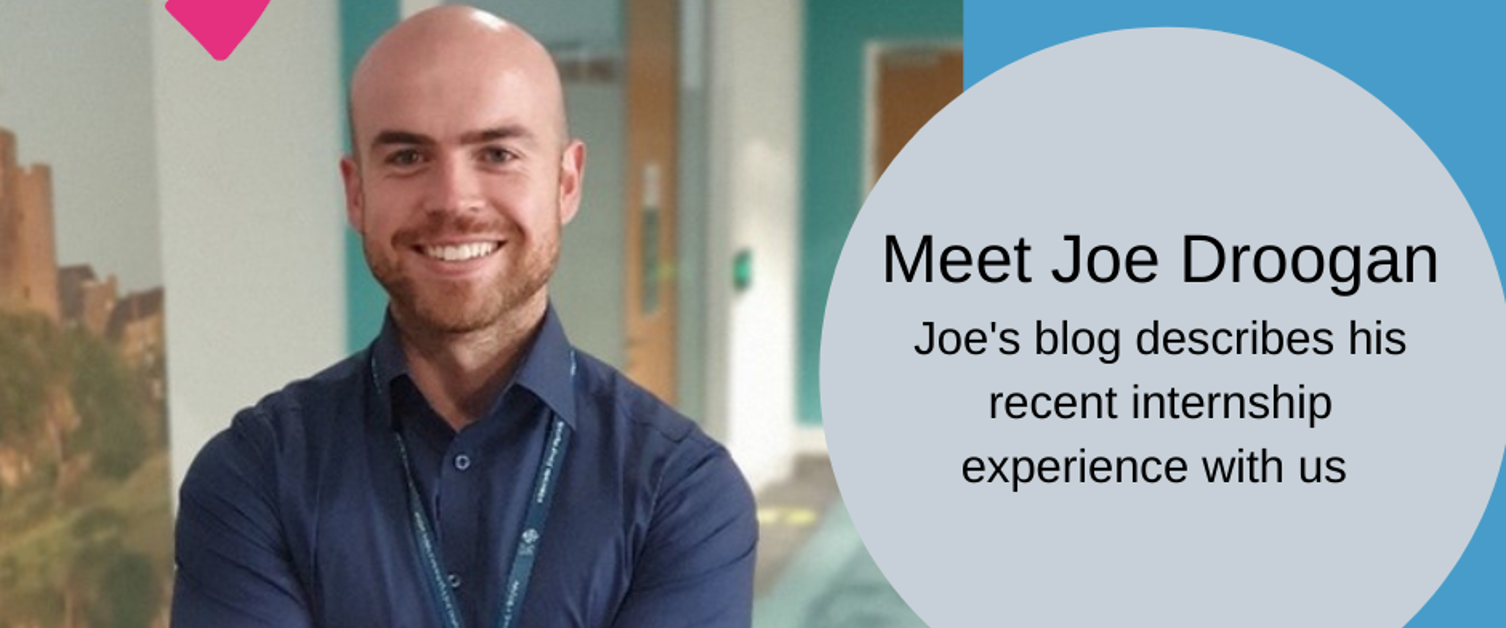 Hi everyone, welcome to my blog, a reflection of my internship at Health Education and Improvement Wales (HEIW). The aim of this blog is to showcase how the internship has helped me develop as a person and hone my soft skills on my journey towards becoming a future leader of the NHS. This blog covers my experience within HEIW but more importantly will hopefully give you an entertaining five minutes. Taking part in HEIW's inaugural internship is a massive opportunity and I'll be looking to add as much value to the programme in preparation for next year's cohort.
Internship? What Internship?
In 2021 HEIW commissioned a year long internship that would allow the successful candidate to develop key skills, paving the way to grow into a leader within NHS Wales. I rotated through a number of directorates, helping deliver on key projects. Through this experience I gained a clear picture of how an NHS organisation operates, what works, what doesn't etc.
As someone that went to university later in life and is only now returning to the real world, I want to develop key business skills to build upon my theoretical knowledge. The internship has already allowed me to improve upon a number of essential skills such as networking, problem solving, delegation and time management. Understanding that NHS Wales has invested in this opportunity is a real motivator to be a good return on investment (watch this space!).
[Fun Fact #1: Before Mark Labbett became a chaser on ITV's 'The Chase', he taught me my Maths A-level for several months.]
So, who is this handsome chap you know absolutely nothing about?
Like a ship with no rudder, I was drifting through life with no direction. I had no goals, no aspirations and no motivation to do anything with my life. I was moving from job to job within the Logistics sector without any real drive and knew something had to change. In 2019 I made the decision to study for a Masters in Logistics and Operations Management at Cardiff university, with the hope that more opportunities would present themselves to me. Just as I started my course, my Father was diagnosed with a Grade 4 Brain Tumour. This was a life changing experience for my family and thrust me into a position of responsibility that I was completely unprepared for. It fundamentally changed who I am as a person. As Chinese philosopher Confucius once said, "We have two lives, and the second begins when we realise we only have one."
After my Father passed in April 2020, I knew I wanted to return to complete my Masters. I had a part time job as a domestic assistant in my local hospital, St Woolos, Aneurin Bevan and it was through this experience that I considered a career within the NHS. It was through Cardiff University's Careers Portal that I stumbled upon a six-week internship opportunity with HEIW. I applied, interviewed and bagged the opportunity. It was a small but extremely significant first step on this new journey.
Fast forward to 2022 and I'm enjoying every moment of this new chapter. I completed my Masters and will be graduating in July. I recently took part in the Manchester Marathon and raised over £6700 for The Brain Tumour Charity. In my spare time I enjoy Krav Maga, listening to podcasts and cooking the occasional risotto.
[Fun Fact #2: During the 2014 NATO summit, President Obama visited my childhood Primary School. An amazing opportunity to witness the leader of the free world drive past my house. Where was I during this once in a lifetime moment? Touring the Heineken factory in Amsterdam.]
What I'm currently working on
I'm currently working within the Nursing Directorate, specifically helping the Allied Health Professions and Healthcare Science programme teams develop their communication toolkits. It has been an excellent way for me to improve my IT skills and has challenged me to be creative, something I have generally struggled with in the past. I have taken full responsibility for creating the easy-to-read resources for both programmes.
(To find out more about the AHP and HCS programmes I have been supporting, click the links provided)
Alongside my work within the Nursing Directorate, I have also been utilising every opportunity the internship has to offer me. A couple of highlights include the 'Meet the Leaders' series and attending a leadership masterclass with Rebecca Richmond Gwella Leadership Portal Being able to surround myself with strategic thinkers and passionate leaders within healthcare has been incredibly intimidating but incredibly rewarding. Further to this, my membership with the Institute of Health & Social Care Management has provided me with opportunities to do short courses in leadership.
[Fun Fact #3: Not only did I win the Christmas chocolate log eating challenge I've also won six games of Connect4 back-to-back.]
What next?
Having worked with the Planning and Corporate Services team during the Summer Internship, I'm very much looking forward to joining them again to help with the decarbonisation and biodiversity plan.
If you have any questions or want to get in touch you can email me at: Joseph.Droogan@Wales.nhs.uk
You can also find me on Linkedin.
To find out more about our Internship Programme please visit Internship Programme - Gwella HEIW Leadership Portal for Wales