Mental health and me – by Matt Smith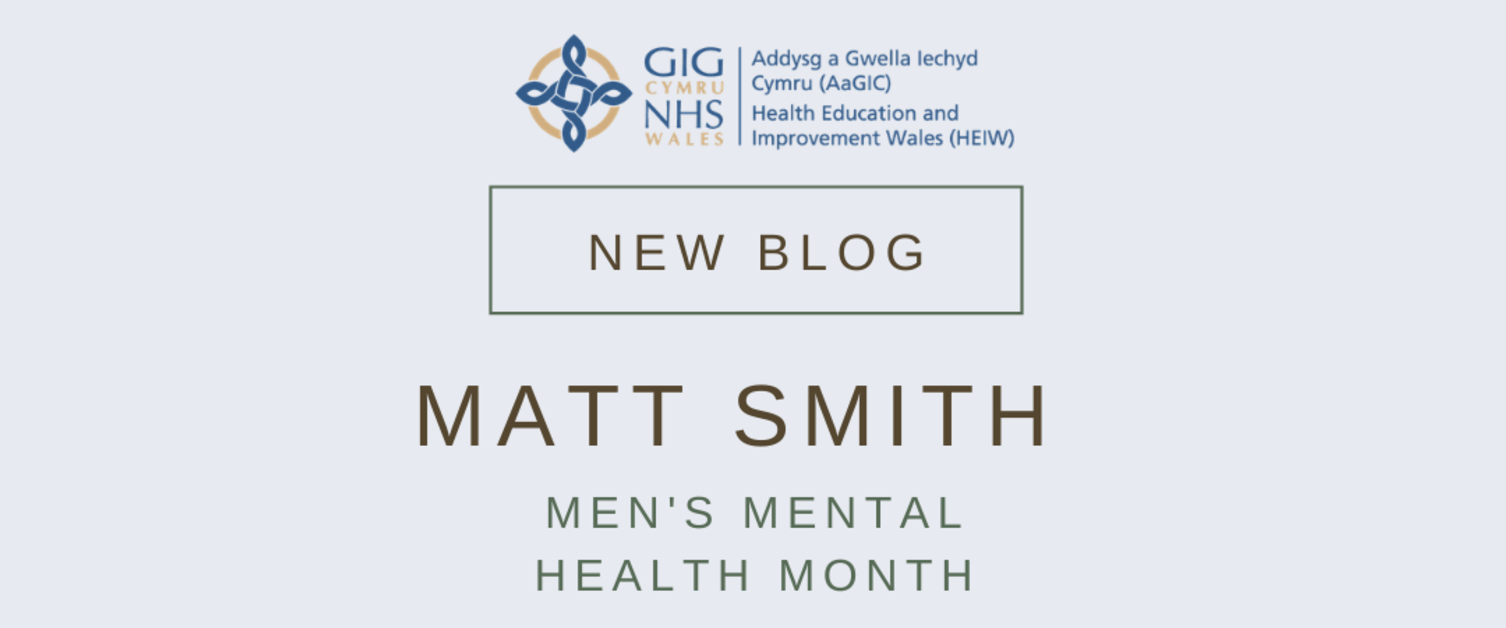 This Men's Mental Health month, we want to challenge stigma, especially around men and depression. Read how Matt Smith, a former colleague here at HEIW, sought help for his depression and how he now manages day to day.
Mental Health and Me, by Matt Smith
In 2013, I was working in a very high pressured and stressful job. Like other organisations in the same sector, resources were limited whilst demand and expectations were high. Restructures and reviews were a regular occurrence with redundancy always a worry at the back of my mind. I worked longer and longer hours, taking calls during evenings and days off and soon, the difference between my work and home lives were unrecognisable.
One day in mid-2013, it hit me that something was not right. I was miserable all day. Driving into and home from work caused me to cry. I spent all day in my office, working consistently, shutting myself away from the outside world. My homelife was no different, I was distant from my family, my friends and my hobbies. Small issues became giant concerns and I just couldn't think straight.
I decided to call my organisation's Employee Assistance Service and within 30 minutes, I was receiving one-to-one support. The service advised me to contact my local GP to seek help and counselling. That phone call was the first step in my treatment. I didn't instantly get better, but I didn't get any worse. I still didn't feel I was ready to contact my GP, so I continued to work, hoping I would get through it. It was my partner, who is very much my barometer when it comes to my depression, who pushed me to make an appointment at my local surgery.
It was the push I needed. Together, with my GP, I started to get the support I now realise I desperately needed. I was put on medication and signposted to several classes, including one on stress awareness. I also decided to take some time off from work in order to begin to take care of myself.
For the first few weeks I slept… a lot. I hadn't been sleeping well, but the break from the worries of work allowed my mind to rest. I also began to reconnect with my family and friends, finally opening up to them about what I was feeling and experiencing. The most surprising thing that came out of this was how many of them had experienced mental health issues too. It's just something we had never talked about with each other, but once I began those conversations, I found out many of them had also gone through similar experiences.
I wasn't alone!
As time went on, I started to regain my confidence. I returned to work after several months off, but now knowing a little more about myself and what I needed, I knew it was time to move on. I started working for Cardiff University.
I began to do the things I enjoyed again, going to gigs, listening to music, socialising with friends and taking up fitness. My partner and I even began a small business which did very well.
In terms of work, HEIW was being created, something I was very optimistic about. The opportunity to be creative and innovative excited me and I truly looked forward to what it could become.
I have experienced periods of depression again since 2013, including one significant period towards the end of 2018. Although these periods in my life are dark, I now know they are something I need to experience in order to grow. Each time I go through them, I learn a little bit more about myself, about new coping mechanisms or I identify new support networks to help me through, such as Andy's Man's Club.
Andy's Man's Club is a support group run by men, for men. It was purely by chance I saw a leaflet advertising the group and I remember backing out of my first visit at the last minute, but after talking to my partner (who as always, was incredibly supportive), I mustered the courage to attend and I am so glad I did. It was, and still is, comforting to know that I am not alone in what I am going through. It sounds like a cliché, but once a week, I get to sit with people, like me who just want to talk, free of judgement and criticism. It's even ok if I don't want to open up. If I want to just sit there and listen, I am welcomed and treated with respect.
I definitely feel there is, not just for men, but in general, still a stigma around mental health. A stigma, I believe, we may in fact be partially creating ourselves. Even though I am now much more open talking about my mental health, I still don't feel comfortable saying that is the reason I may need to take some time off work or take time to look after myself. I feel because no-one can see my illness, they may not believe me or understand me.
My advice to anyone, male or female experiencing mental health issues is to talk to someone. Depression is so difficult because it makes you feel so isolated and alone. This isn't the case. Having that initial conversation with a GP, partner, friend or support service may feel like the hardest thing in the world to do, but trust me, once you've done it, you will realise there was nothing to be scared of.
I know my depression hasn't gone, it never will, but I can now look forward to the future knowing that when it does come back, I have the support, confidence and experience to get through it.
Where you can get support?
ANDYSMANCLUB meets every Monday night at 7pm at Porthcawl rugby club. The sessions are open to any man over 18 and while the primary aim is to reduce suicide rates in men, men do not need to have had a mental health issue or suicidal thoughts to attend.
In our experience there are men who have either just come through a storm, in a storm or have a storm brewing.
In the current situation with lockdown and not being able to meet in person the groups are being held on an online platform and anyone interesting in joining should contact info@andysmanclub.co.uk.