Dentist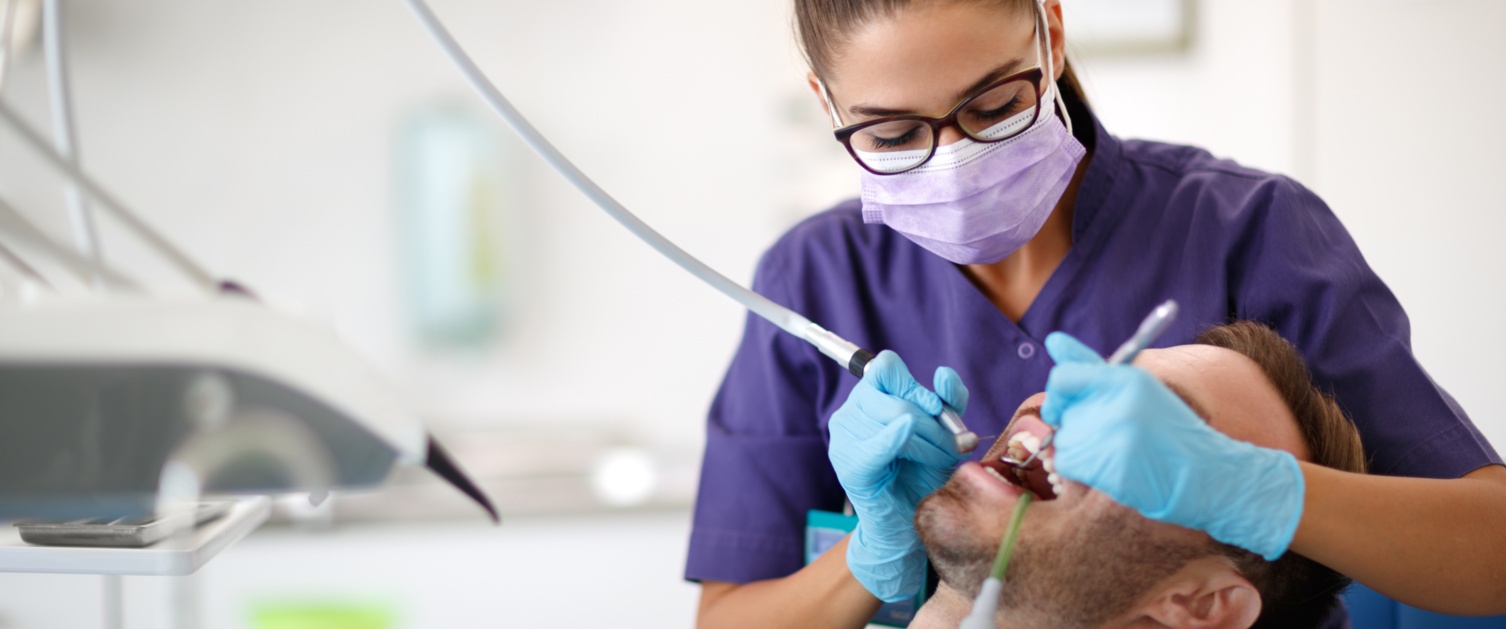 What is dentistry?
Dentistry is branch of medicine that involves the study, diagnosis, prevention and treatment of diseases of the oral cavity (mouth), mucosa (soft tissues), periodontal tissues (gums) and temporomandibular joint (jaw joint).
Dentists are part of a dental team which also includes, dental hygienists, dental therapists, dental nurses and dental technicians. This team holistically treats patients by giving preventative advice and undertaking surgical procedures for the restoration of oral health.
Dentists are expected to have a high level of expertise on human anatomy, oral diseases and maintain a life-long high level of scientific up-to-date knowledge for best current practices. In addition, they require high levels of manual dexterity to provide for 'gold standard' clinical care for their patients.
Is dentistry the right career for me?
Dentistry is a very worthwhile career and designed to help people improve their oral health. Dentists work with patients and the general public to prevent and treat dental and oral disease, correcting dental irregularities (particularly in children) and treating dental and facial injuries. If you are interested in helping people and understanding problems and working them out with solutions, then dentistry is probably for you.
What do dentists do?
Working within dentistry means you will meet many members of the general public and change and shape behaviours to try and prevent disease. You will be involved in the surgical and non-surgical treatment of patient's diseases. You will need to be talkative, friendly and caring, as many people can become upset at attending the dentist. You will need to show empathy and understanding. Dentists work is increasingly preventive, protecting teeth and gums from decay and disease. Most dentists work as general practitioners and patients come from their local community.
Where do dentists work?
Dentists can work across a very large spectrum of areas, including within a general dental practice, hospitals, community clinics, the Armed Forces and even become a specialist within the field of dentistry. Think of everywhere you may need a dentist and there is probably one working there!
How much do dentists earn?
The starting salary of a dentist during their Foundation Training year is £33k. Salaried dentists employed by the NHS, working mainly with community dental services, earn a basic salary of between £38,476 and £82,295.
What career progression opportunities are available for Dentists?
Many dentists who qualify work in general dental practice for all of their clinical career, although there are many opportunities following qualification. You may decide to become a specialist in a particular branch of dentistry with further training. This may lead to becoming a Consultant on one of 13 different specialties in the UK. You may decide to become non-clinical and develop policies for improving the health of the nation. There are many opportunities that come from a degree in dentistry.
How do I become a dentist?
You will need to undertake a five-year programme to provide you with the knowledge, skills and behaviours needed to register with the General Dental Council (GDC). This will allow you to complete your Dental Foundation Training (DFT) year, and ultimately join the professional world of dentistry. You will have the opportunity to serve and manage patients of diverse ages and backgrounds with a wide range of dental diseases. Training alongside Dental Therapists, Dental Hygienists and Dentists will support your understanding of how your role fits into the dental team environment in preparation for when you qualify and commence practice.
Do I need a degree?
Yes, Bachelor of Dental Surgery (BDS)
Where can I train in Wales?
Cardiff University.
Is there funding available?

Pre-registration dental students attending the accelerated four-year graduate entry programme will be eligible for NHS funding for years 2–4 of their course. Dental students undertaking 5-6 year undergraduate courses will be eligible for NHS funding for their fifth and subsequent years of study.

For further information about eligibility visit Student Awards Services.

Are there postgraduate opportunities?
The postgraduate opportunities are very extensive and the Bachelor of Dental Surgery can open many doors. Many postgraduates continue their education with Royal College examinations, Masters or Specialist Training to name a few options – all depending on your chosen career pathway as a dentist.
Do I need previous experience to apply for the course?
No, but can be an advantage. You should take the opportunity to gain valuable work experience within dentistry. It will give you an insight if you find it enjoyable.
How do I get experience?
There are numerous Dental Practices in and outside of the NHS that may offer work experience.
How do I apply for a job?
Visit our Work section for more information.
Useful links: